As most of you know, I have liked cars almost all my life. After selling my 71 Camaro about three years ago, I've had something missing in my garage so I decided to build another hot rod. This one would be a little different than the last one because the new one is going to be a 1933 Ford three window Coupe. Now just because it's a Ford doesn't mean I'm going to be using a Ford engine. I'm a small block Chevy guy so that's what we'll be using in the new one.

Because this project is going to take awhile, I'll be posting updates from time to time. I have decided to put a link to the new page on the front page and put a new date next to it every time I make an update. This way the front page won't be over ridden with posts.

I'm also going to be putting links to the main subjects on this page as well. This should help in getting to the new and old info as it rolls in. On each "subject page" there will be links to all the pages in that subject to aid in the least amount of mouse clicks. I hope it works out but if it doesn't, let me know and I'll change it.

Well let's jump right in to "Step 1" and see how the project is going to begin!
2-1-07
This is what the car looks like now that it's on the road. It sure is fun to drive and I drive it as much as I can. A lot of blood, sweat and tears went into the car over the years. Was it worth it in the end, oh yeah!!
If you want a high resolution picture of the car, click on the picture below to open a 3.9 mb tif file.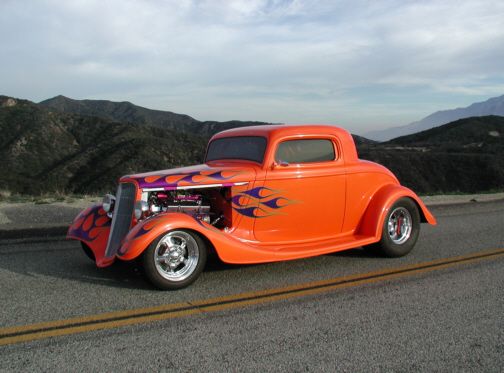 Archive Garage Pix:
Step 1. Chassis New pages added:
Step 2.

Welder

4-05-03
Step 3.

Wheel dollies

4-27-03
Step 4.

A must have

5-04-03
Step 5.

Body

New pages added: 39 - 41 4-3-04
Step 6.

Engine

New pages added: 58 - 63 8-16-03
Step 7.

Transmission

New pages added: 14 - 15 5-30-04
Step 8.

Installing The Engine

- New pages added: 37 - 40 1-01-04
Step 9.

Steering Column

11-07-03
Step 10.

Fuel System and Battery

New pages added: 18 - 19 1-03-04
Step 11.

Fire In The Hole

1-11-04
Step 12.

Some Last Details

33 - 35 7-21-04
Step 13.

Interior

New pages added: 66 - 68 3/05/05
Step 14

Before Paint

New pages added 10 - 14 5/30/05
Step 15

What it Might Look Like

1 - 2 6/11/05
Step 16.

Paint

New pages added 34 - 35 12-17-05
Step 17

Finished Pictures and Thoughts

- 12-28-05
Step 18

Adjusting and Tweaking

New pages added 12 - 14 5-30-09