Making Knives - What was I thinking!

I finished making the knife holders a little early so I thought I'd use this extra time to make one set of knives. And this set of knives will be for Matt and Angela because I don't remember seeing any at their house. Now I don't know what I'm doing here which means it will be a challenge for me. I did make one knife for my father-in-law for Christmas of 2014, which was my first attempt ever at something like this. But I'll try most any project once and if it doesn't work out, I'll make some adjustments so it does. In other words, I like making something I've never tried before.
Let's go over what I what I bought from Jantz Supply in detail:
3" Paring

4" Utility

6" Fillet

6" Cooks

8" Carver

8" Cooks

3/16" Brass Cutlery Rivets

5/16" Brass Cutlery Rivets

3/8" X 5" X 10" Rosewood Burgundy (3 pieces)

You might have noticed that all the blades look the same except for the 'Fillet', which was a second choice because Jantz Supply didn't have the one I wanted. They backordered my first choice, a 5 1/2" boning knife, which should be here after the first of the year. I plan on making that one when it gets here and swap it out for the Fillet later on. If your wondering about the size of both knives, the catalog says they're the same. I sure hope so because the slot in the knife holder is finished and changing it would be a nightmare. On the other hand, if the new one doesn't fit the slot, I'll just keep it :-]
All the knives are made out of 440c surgical stainless steel, heat treated, sharpened and have a mirror finish. What I'll need to do is cut the handle material into smaller pieces, glue and rivet them to the blade, form the handle, and then lots and lots of hand sanding. I remember from the knife I made last year there will be a bunch of handwork which is why I thought I'd try this with the extra time I had.
I'm going to work on the two smaller knives first as they use the same size rivets, 3/16" diameter. That's not really the deciding factor here, I just thought I'd do those first so let's take a look at how I'm going about making these knives.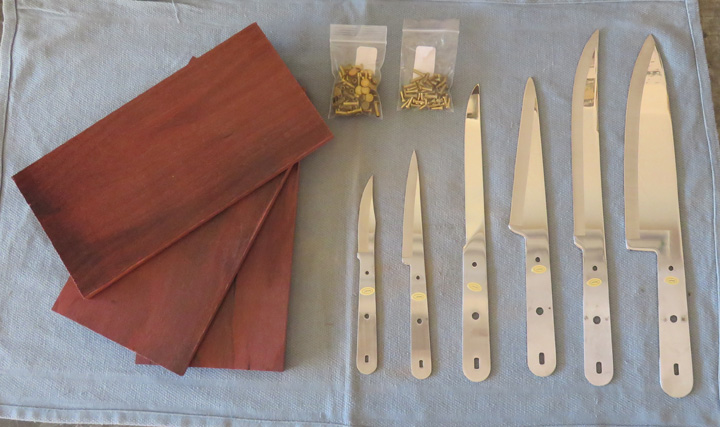 The first thing you should know about this handle material, it's man made. Even though it looks like real wood it's not, it's resin impregnated wood. That means it has a grain like wood does (layers), but in some ways it reminds me of fiberglass, but without the itchy skin. I tried using a coarse blade to saw this with but the material splintered so I switched to a fine blade like my hacksaw has, which worked great. The only thing about using a hand saw is...well...it's a hand saw! A power tool would be great here but on the other hand, I only have six knives to do.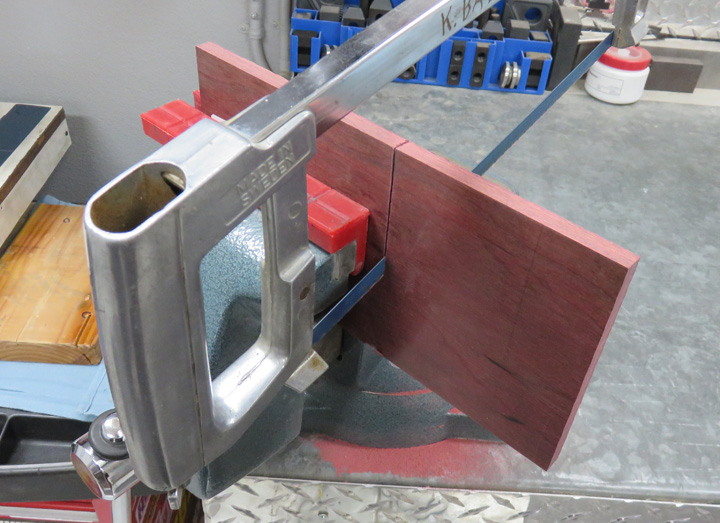 I measured the length of the handle area on my two smaller knives and added a little more (3/8" to 7/16") and then cut the material. I'll need four pieces total here, two for each knife.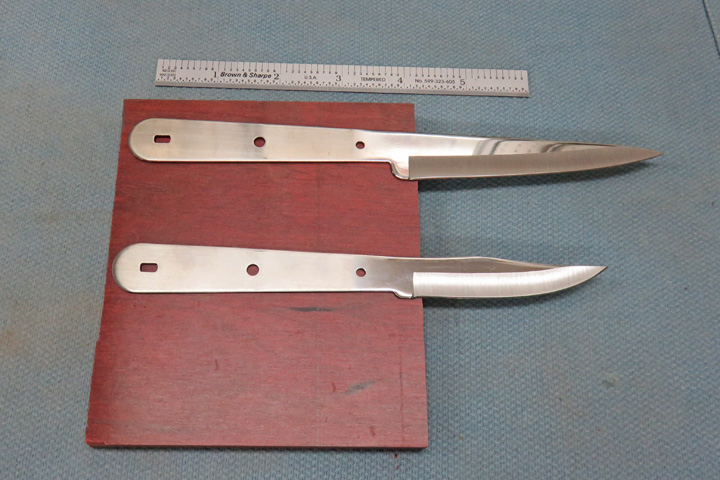 After cutting out these pieces, that power tool sure would've come in handy but I don't have a fine blade for my circular saw. No big deal because a little exercise can be good for you. Notice the saw cut edges are not straight. This is due to me turning the work piece around because my hacksaw isn't deep enough to make it in one cut. Speaking of cutting, note that I covered the blades with tape. Mainly this is to prevent me from getting cut but it's also used to protect the blade from getting scratched.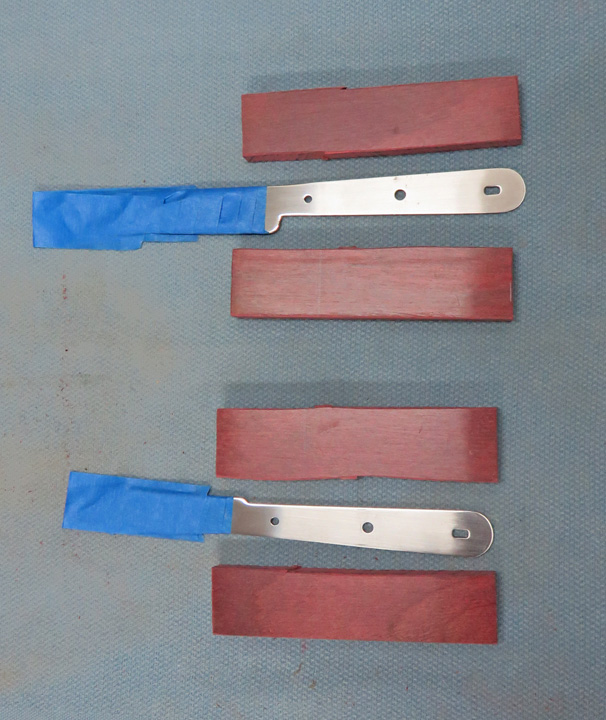 I machined all the rough saw cut sides first so I would be able to hold them in my vise to machine the larger surface. I then cut the thickness down to .275 for the paring blade and .295 for the utility blade. The reason I made them slightly different is because I went to my kitchen and looked at some existing knives for guidance. What I found was the smallest knife had the thinnest handle. Now I'm not sure here but if you have a larger handle in your hand you tend to grab it with more authority compared to one with a smaller handle. Think screwdrivers here: the smaller ones have small diameter handles and the reason for that is so you can't apply too much torque. So if you have a thinner handle you would tend to use it with a lighter touch. At least that's what I came up with so this is how I'm going to approach making them.
Once I cut the surface I could see the grain a little better. I removed half the material from one side and half from the other. This way if there are any imperfections on the surface they'll be removed.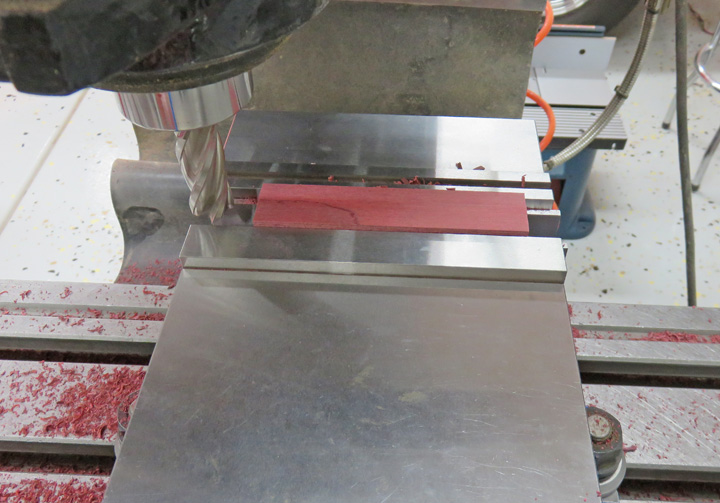 I sanded both the tang of the knife and the handles with 220 grit sandpaper. The reason for the sanding is because I'll be gluing the handles to the tangs along with using some rivets. Glue bonds better to a rough surface than to a smooth one. I wrapped the sandpaper around a wooden sanding block for this (top) which worked very well.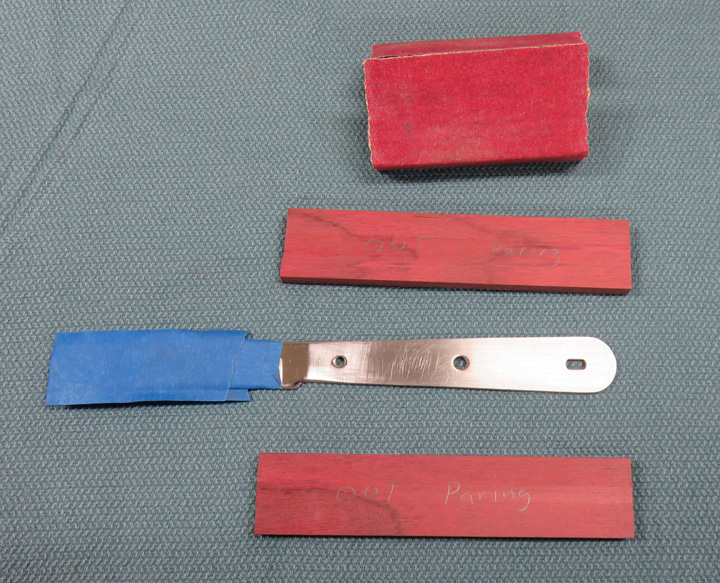 One thing I did before doing any glue and rivet work was to machine the edge that faces towards the knife point first. Once the handles are fastened to the knife I wouldn't be able to do this without scratching the blade. Just thinking ahead here.
I used a 3/16" corner rounding end mill to put a radius on the front edge of all four pieces, two for each of the smaller knives. Once they were all cut, I sanded that area with 220 and and 320 grit paper.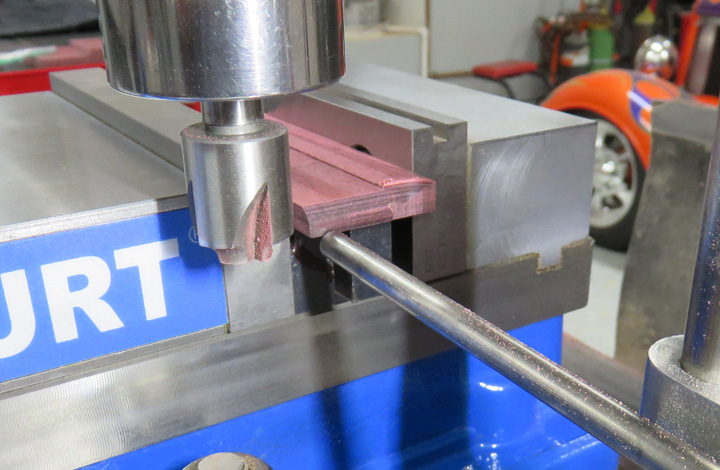 I centered the tang on my material and placed the front edge of the handle right where the tang and blade come together. Once I had this where I wanted it, I used my pencil and traced around each of the three holes. Look close and you can see the pencil mark in the small hole.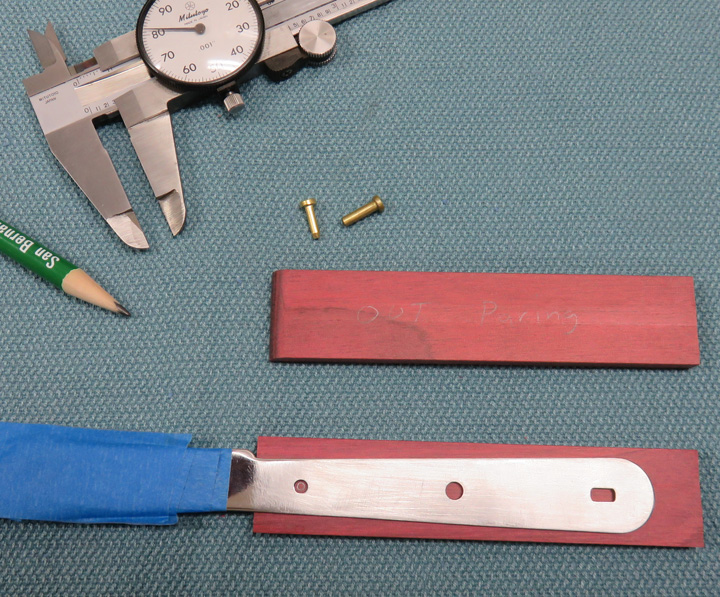 Once I drilled the three holes in one half, I clamped both handles together and used one handle as my guide to drill the other. This worked out good and now the front edge of both handles will be aligned. Once I had the first hole drilled I placed a rivet in that hole, then moved to the middle and repeat.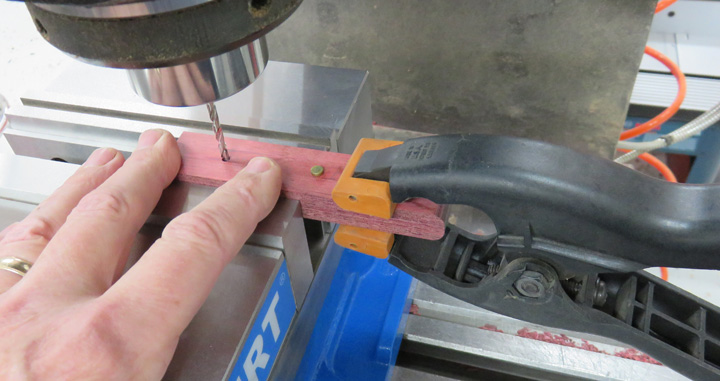 I'm test fitting the handles prior to them being glued and riveted.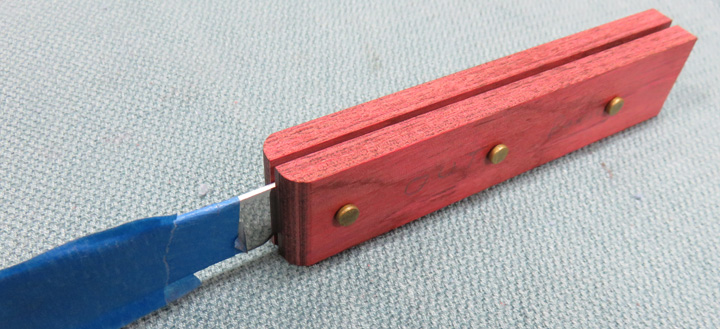 1
2
3
4
5
6
7
8
9
10
11
12
13
14