The hardware that will be used in the new system is below.
MSI KT3 ULTRA motherboard
Athlon 1800+ CPU (retail)
Infineon 512mb DDRAM
Thermaltake RAM cooling kit
Visiontek GeForce 3 Ti500
D-Link 10/100 NIC
Western Digital WD 800JB 80gig
Creative Labs 52X CD-ROM
4 clear 80mm fans w/led's
300 watt Sparkle power supply
1/4 & 3/16 thick Plexiglas
Thumbscrews: 8 red, 6 blue, 4 Stainless, 2 gold
EL Wire - Color blue
Windoz XP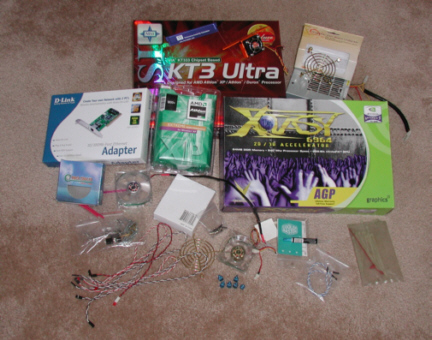 Here is what it looks like with most of the components on the motherboard. Like I said before, the buttons/LED's bracket is mounted to the motherboard shelf. This way when I remove the motherboard, the switch bracket comes with it so I don't have to disconnect any wires. This makes it easy to work on.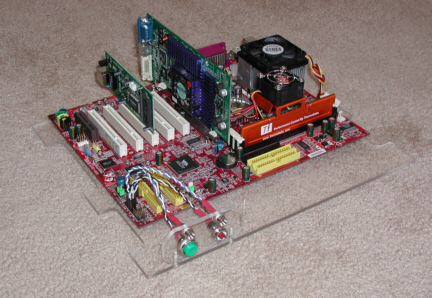 Here is a close-up of one of the six blue thumbscrews used to hold down the motherboard. I thought they would look nice and I haven't seen it done before either. It makes a nice contrast with the red motherboard.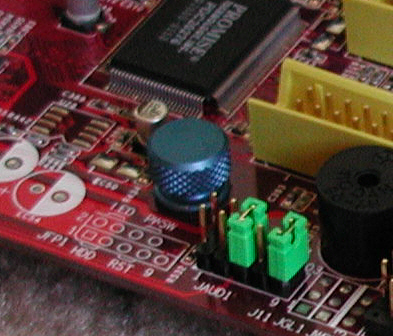 The back of the case had to have some cutouts so I could hookup all the wires. This was done with a milling machine which made the job easy. The large cutout at the top is for the power supply. The long one on the right is for all of the ports like mouse, keyboard, sound, serial ports, LPT1 port and USB ports. The one to the left of the last one is for the video card and the small one is for the networking card. This piece will be held on with Stainless thumb screws.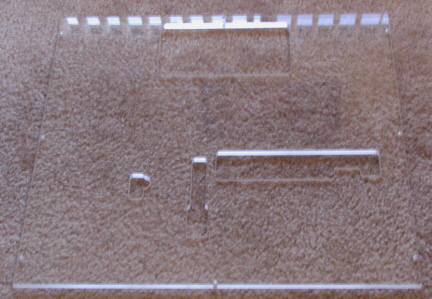 Let's put it all together and see if it works.