To the left of the new cabinet is a another new item which is a 60 gallon air compressor. Now this piece of equipment is way over due as my old one was made in the 50's, it still worked but it was showing it's age. It runs on 240 volts (just like the old one) so wiring it was a snap.

The red hose that you see coming from the right side of it is about three feet long and is made out of rubber. Being made out of rubber allows it to move and flex so it doesn't cause any problems with the copper line that it's hooked to. I also ran an air line over to my work bench which I've been wanting to do for some time now. And over the compressor is a couple of my favorite comedians, "The Three Stooges".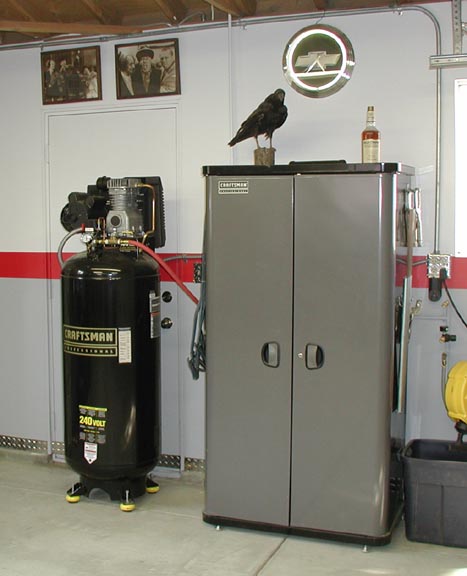 The clock that you see has neon element that comes on when I turn on the overhead lights which looks pretty cool. It was given to me for my birthday way back in February so it's been around for awhile. Under it is a stuffed crow with a bottle of Old Crow next to him. And if you notice, I've added a decal to my cabinet too, which pretty much says it all.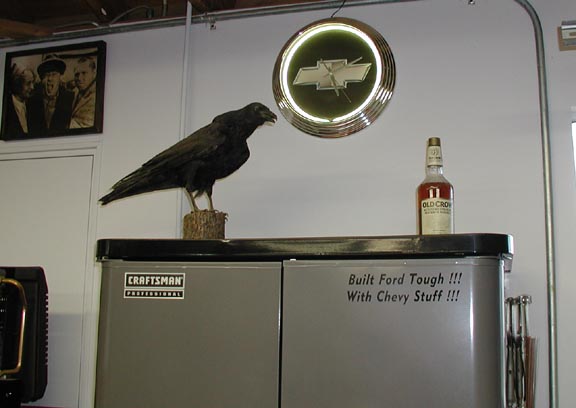 This is looking towards the west wall and I've added a few things here too. Some of the stuff is old and some is new so let's take a look in detail of the west wall.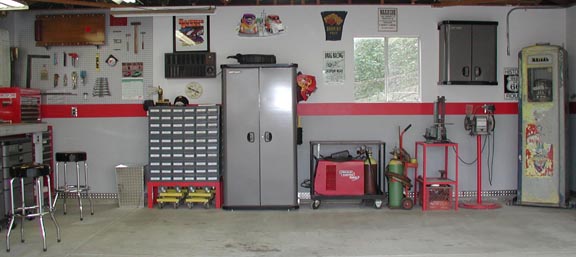 This wall mounted cabinet is new. I've had one of these for a couple of years and because it worked so good, I had to have another. The things that I keep in are related to the area like sanding belts, buffing compound, etc. The Route 66 sign is new and was placed where you see it because it's covering my fuse box. I attached it with Velcro so I can remove it when I need to.

I painted all the metal stands the same red that the wall was done with (so things match). The gas pump is still on the list of things to work on but will stay in this corner once it's finished.