The Garage Project 1 January 2008
One of the things that I've been wanting to do for a long time is to have a nice clean looking garage. My garage isn't too bad now but I know it could look a little better, without putting out too much money. Now this is something that I should have done before I started my 33 Coupe build, so I guess what I'm saying is, it's better late than never. I got this idea at the first of the year but there have been a couple of things keeping me from finishing it, till now that is.

The main reason that I wanted to do this garage project is because I've been bored. What I mean is, now that the car is finished and I've been taking it to some car shows, I don't have anything else to work on (I guess I just like to keep busy). By not having anything to work on lately is how I got the idea to redo it, so I started thinking about what I wanted it to look like.

My garage is 20' X 24' (outside dimensions) and what I plan to do is take away some space and also add some space. Below is what my garage has looked like for the last four or five years. And you can see, it's pretty typical looking which has been just fine by me, up until now.

Let's take a look at each wall so I can tell you about a few things. This is the west wall or back of the garage. Starting on the left side is a workbench that I bought from Sears a long time ago. It's main purpose has been used for reloading ammunition for rifle, shotgun and pistols. If you look close, you can still see my rifle/pistol press on it. To the right of that is a relatively new cabinet that I received as a birthday present a year ago. This cabinet is made by Craftsman and is a very nice piece, has lots of storage space and it looks good. On top of it you can see the wheel dollies that I made a few years ago too. Next to that is another Craftsman product which is a chest of drawers with four castors so it moves easily. On top of it you can see my tunes but that isn't the normal spot for it. I placed it their temporally while I was starting to move things around while I did my remodel. My belt sander is next (a poor mans milling machine) which I made a stand for about a year ago out of 1" X 1" angle iron along with a lower shelf. Beside that is my bench grinder/buffer which I've had forever. My engine hoist, TIG welder and a few other items are all on the west wall too.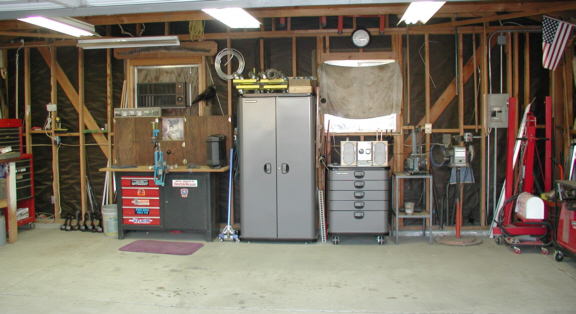 The north wall has my compressor on it along with some wooden shelves full of all kinds of stuff. The nice thing about shelves is that everything is right at your finger tips. The bad thing is that it's right out in the open for everyone to see and if it's a mess, it doesn't look very good. A few other items are just out of site which are hanging next to the shelves.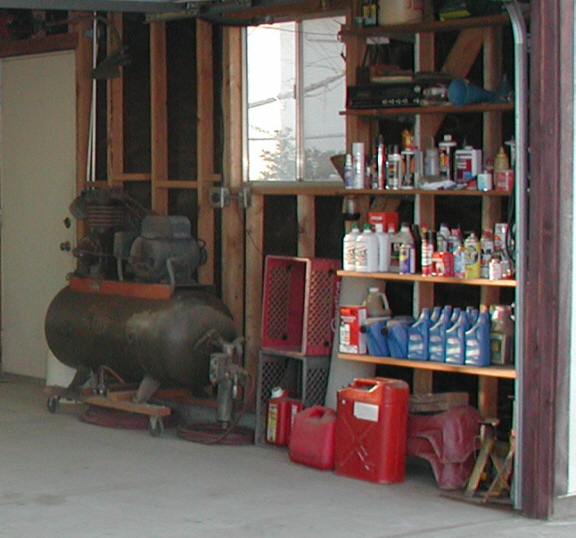 The south wall has a little more going on than the last one. Starting from left to right we have some metal shelves with some wooded doors on it. I like having the doors on it because no matter how messy it is inside, you can't tell it (if you have the doors shut). In front of it is a roll-around cabinet (that has been used quite a bit while building my 33) and it stores a little bit of everything. My 20 gallon wet/dry shop vac that is as old as my bench grinder (30 years +) and still works but it's been making some bearing noise for the last year or so. And it's very loud!! Behind it is my floor jack that has seen a bunch of use over the years.

A work bench is one of the main parts of anyone's garage or shop so the better it can be organized, the easier it is to do things. On top of it I have all kinds of nuts, bolts, washers etc. which are in those metal cabinets. These cabinets are made of steel and the drawers have dividers that are adjustable. I don't think you can have to many of these in your shop because they work great. Under the bench we have a few tool boxes, buckets of stuff, containers of solvents, saws, etc. The wall behind it has some 2' X 4' pieces of pegboard that I had given to me some time ago, which have worked very well up to this point. Last but not least is my Craftsman tool box that I've had for the same amount of time as my grinder and shop vac. I don't know if I could ever part with it after this long because it's been pretty good to me.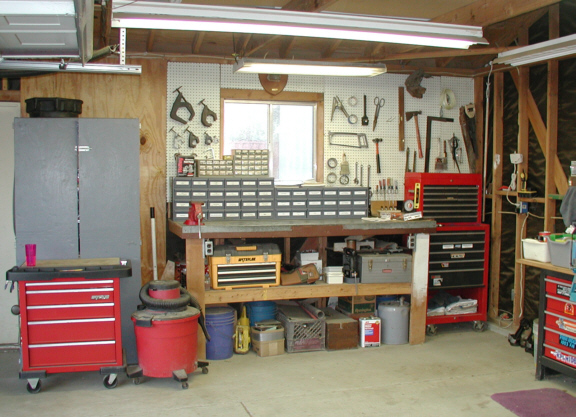 The east wall doesn't have much room for storage because this is where the rollup door is located. The area that you see here has shelves containing coffee cans that are used as storage containers for things like plastic and metal pipe fittings, large bolts, etc. Some old paint cans are above them along with a saddle hanging down from a 2 X 4. Below is where I keep my dog food (which is in those three larger containers) and below that is my lawn mower and weed eater.

At this point you've seen most of the garage and now it's time to start on one section at a time to make things look a little better.