The Garage Project 2 January 2008
I'm starting on the north and west walls first and as you can see, the wooden shelves were the first things to go. They were five feet long X 12" deep and have worked well for many years, but the only thing I have in store for them is fire wood now (they should burn pretty good with all that oil on them).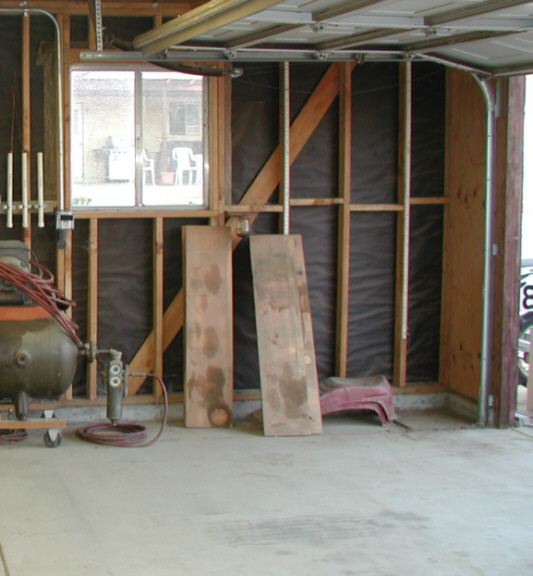 Here's the same wall but now it has drywall on it. Now I've hung drywall before but I've never done any of the mud that goes along with it, so this will be another first for me. I figure if it doesn't look that good when I'm finished, it's only the garage...right? But if it does turn out okay, then I might be doing work on the inside of the house. Hum....lets see....how much effort should I put into this?

The Craftsman tool box has my radio/CD player on it so I can move it around depending on what area I'm working on. The outlet that you see on the right side of the window is new. This will be used for my tunes once things are all finished. I also added a double outlet to the other side of the window as well because you can never have to many outlets. Besides, I have something in mind that could use power once I'm finished.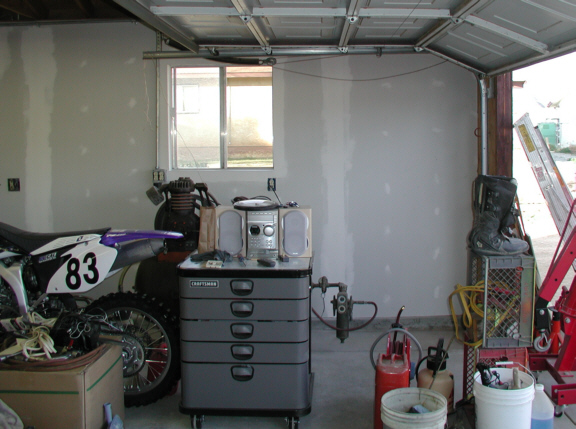 That dirt bike belongs to my stepson, Tony. It's a Yamaha YZ 450 and it hauls ass. How do I know? Because I took it around the block awhile back. Now I haven't ridden a dirt bike for over 14 years but it all comes right back once your on it. I had to bang a few gears while I was riding it and found out that the front-end comes up really fast when you do that. Hum....maybe I should get another dirt bike? Yeah right!!

Little did I realize when I started this project that moving stuff from one place to another turned out to be like an exercise program. I hope it's all worth it once I'm finished.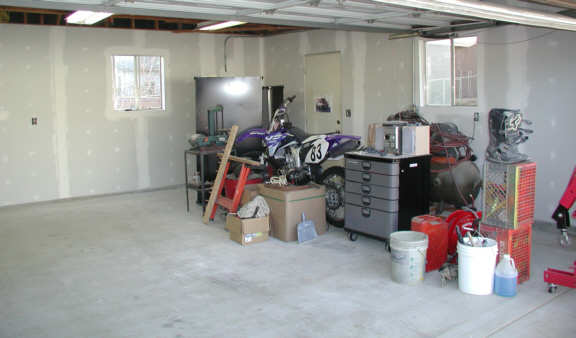 I dry walled around my swamp cooler too and stopped right next to it, for now (call it the "first phase" of the project if you will). I plan to do more but this is all I had room for at this time. I also trimmed out around both windows, just like you'd see in a house. Hey, nothings to good for the garage ya know!!

It's hard to see here but that electrical outlet that you see to the right of the window used to be a single and now it's a double outlet. I thought it might come in handy for things in the future too.