Culinary School Presidential 5 2008
Next we have Sebastian's crab and shrimp mousseline salad, that used Dungeness crabs, fresh avocados, tomatoes, and California freshwater shrimp on top of some Bibb lettuce topped with some honey almond vinaigrette dressing. The term "mousseline" is basically a fancy and technical process of preparation for the fish, which is rolled and cut like a sausage. When I first saw the fish, they looked like pieces bananas to me, and wasn't to bad after all.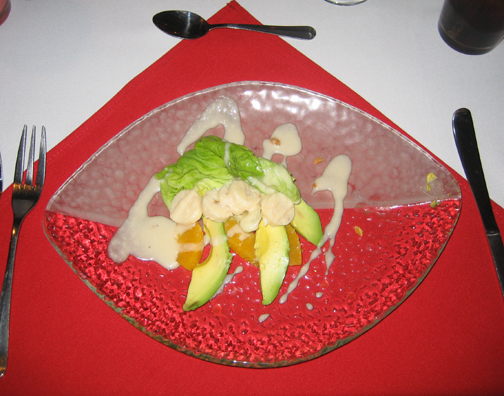 The meal wouldn't be complete without some kind of bread and for this, Tracey made some Hunny bread rolls served with hunny butter (which is how Winnie the Pooh spells honey). What she did was take a good bread recipe and subbed the sugar in it for honey, which was very good. And notice the shape of the butter in the bowl....too cool.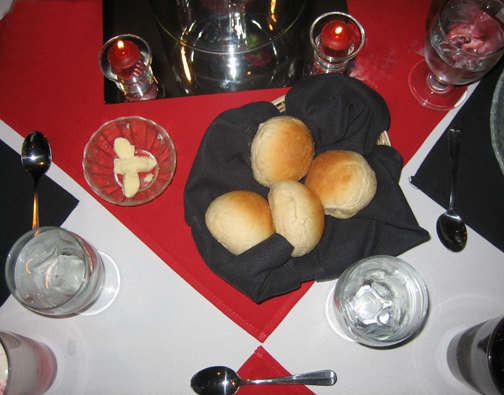 This is Snow White's Apple Sorbet which was frozen, but not hard to eat. The purpose of this part of the meal is to cleanse the pallate before the main coarse. That means it's meant to wipe the fishy flavor out of your mouth before the entree. In a menu like this you're supposed to have a fish course, or seafood course and that taste can linger and can mix up flavors that you eat afterwards. They made this to remove that taste so when the entree comes up, you only taste the flavors in that (I would have never known what this was for if Tracey hadn't told me). It tasted pretty good and did seem to work.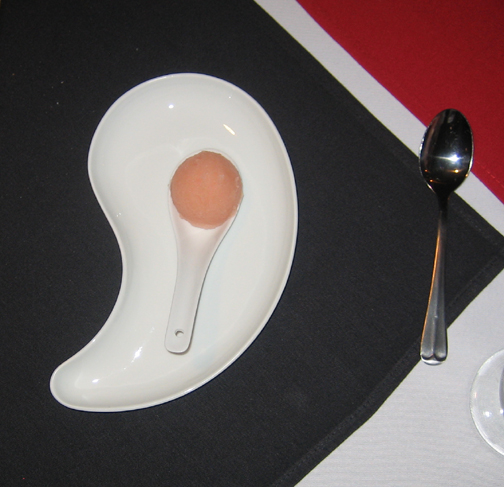 The main dish was spaghetti and meatballs, which was served in Disney's Lady and the Tramp. She hand made the egg pasta with California heirloom tomato sauce topped with parmesan cheese. Notice the centers of the meatballs, do you see Mickey's head? This really tasted excellent and she'll have to make this for me again sometime.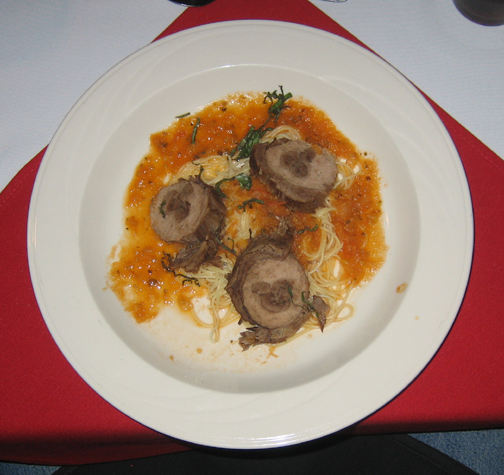 Once desert arrived, I was pretty full, but it was hard to pass up the Pirate Chocolate Rum Mousse. Remember the cookies from before? The Disneyland castle really stands out with it next to the chocolate Mickey truffle nestled within a side of chocolate crème anglaise (along with the cookie). Also notice the gold treasure in the chocolate mousse. This was the coolest looking desert and it tasted as good as it looks. Everything on the plate was eatable (except the bowl) even the little red thing, which is pulled sugar.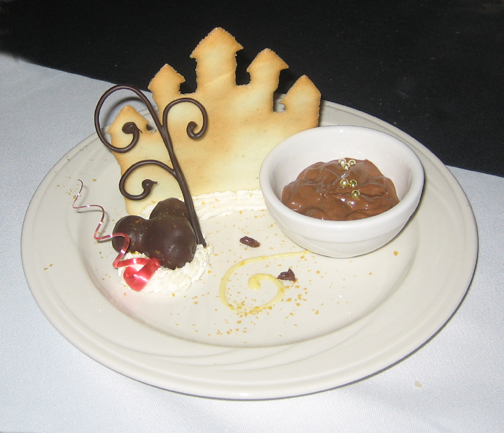 This lunch will be remembered by me for being one of, if not the best, I've ever had. And to make things better, my little girl made it all. Everyone that ate cleaned their plates so I would say it was a complete success.

The students get their grades for this project right after they finish and Tracey got a 3.6 out of 4. She said that she learned a lot from it and that her chef really liked it too. We all had a great time and it was really good to see my daughter excel at what she's been learning for the past two years, and what she really likes to do. Nice going sweetie, you did a great job!!

Once Tracey is finished with school, she'll be moving back down to Ca. a week after she graduates. Why so soon? One reason is because she's had it with the harsh winters and has already lined up a rental truck to haul her stuff back. I guess you can take the girl out of California but you can't take the California out of the girl.