I like the contrast between the dark antlers and lighter maple.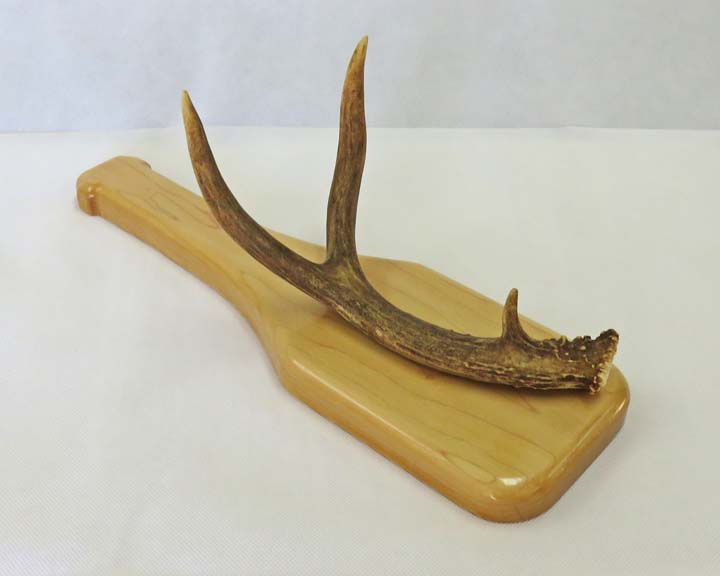 I had three different bottles to use so I took one picture of each for all of the wine racks.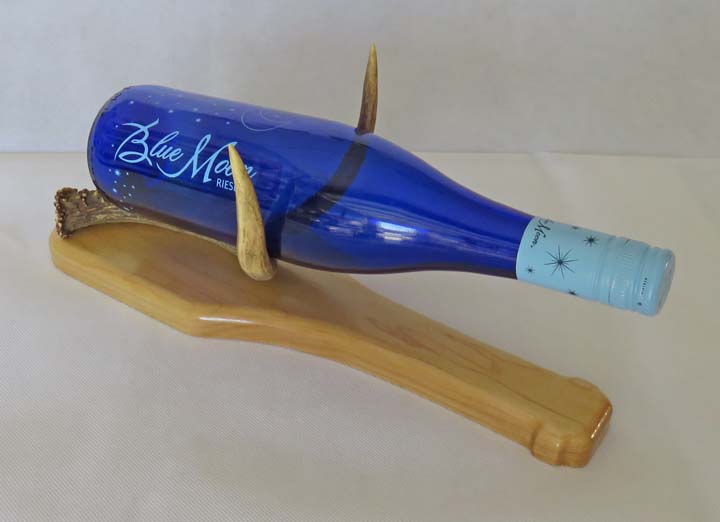 The small base will be just right for my father-in-laws house.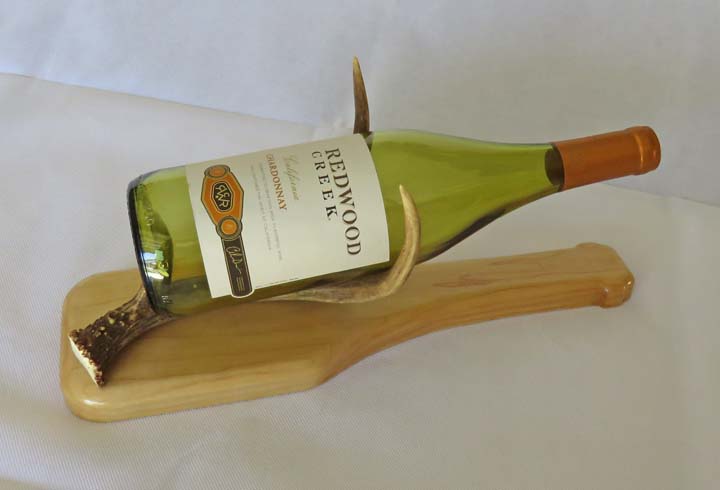 Here you can see the eye guard against the back of the bottle so it doesn't slide out. I really like the contrast with this color bottle here.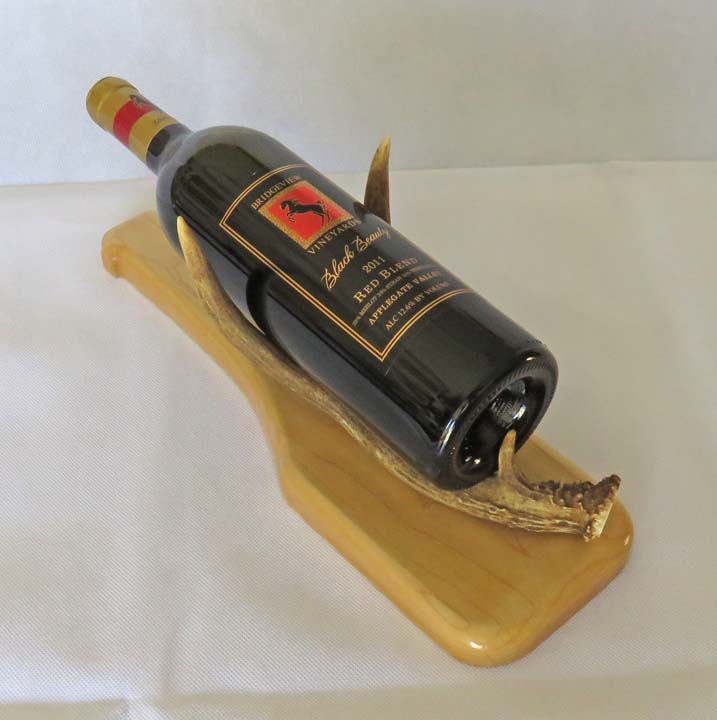 If I saw this sitting on a counter or table for the first time without anything in it, I wouldn't guess it would hold a bottle.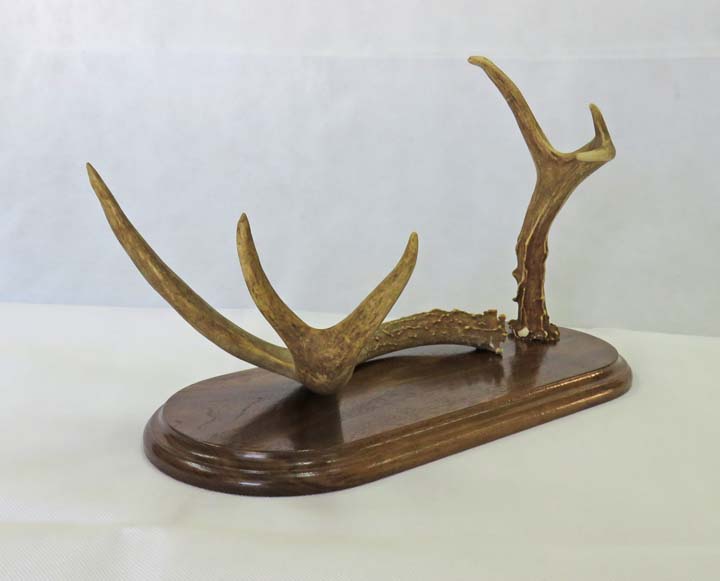 In case you were wondering the bottle won't roll out because of the placement of the antlers.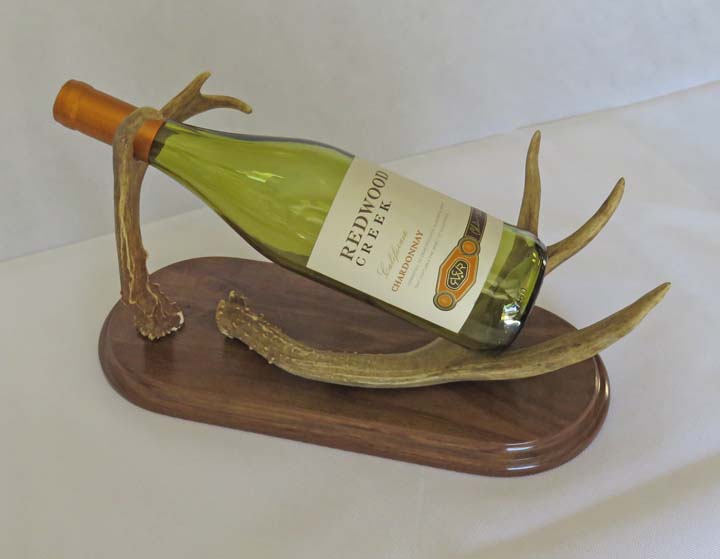 It might be hard to tell but that bottle is very stable and won't roll out unexpectedly.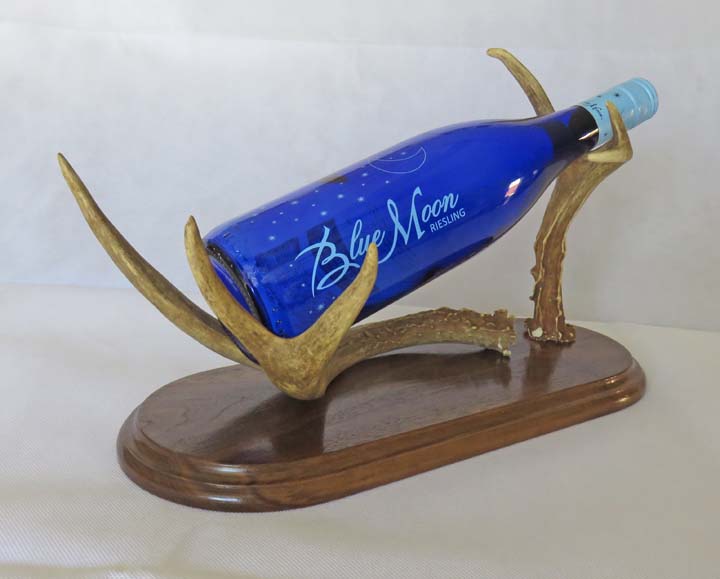 Another nice contrast with this bottle.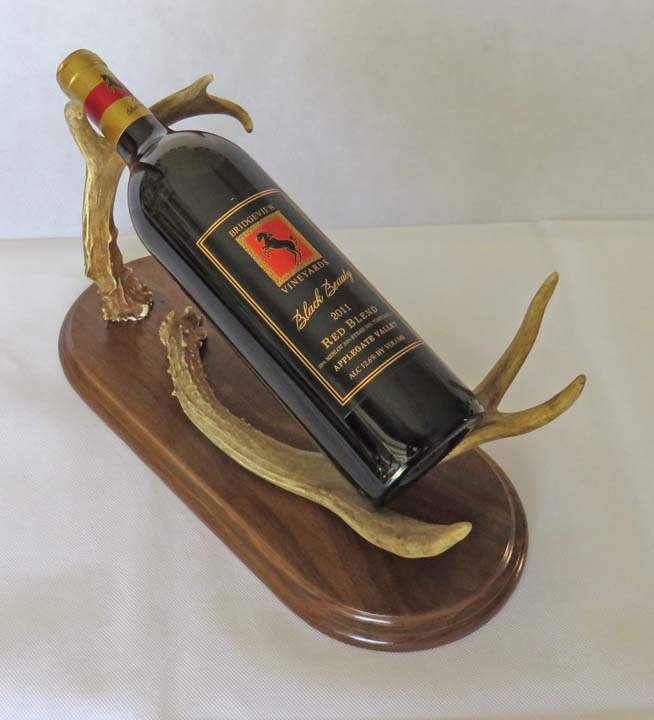 This is the one I gave to my daughter Stefanie. When she opened it she had no idea what it was or what it would be used for. I explained to her that it means three different things:
First it would always remind her that I'm a deer hunter.
Second it will remind her of the very first time she ever had venison. You see, Stef is my step-daughter but after 20 plus years of knowing her, I just call her 'my daughter' any more. Anyways, we were all having dinner one evening and what looked like beef stew to her was really venison stew. When she was about halfway through with her meal, I asked her how it was? She said it was good. Then I asked her "do you know what kind of meat this is"? She answered "beef". Well my kids started giggling and she said, "what'??? That's when someone told her it was deer meat. Right then she dropped her spoon and left the table. Everyone else laughed but she was pretty mad.
When I mentioned that story that evening, she had a smirk in place of a smile and then laughed a little, but I could also see it brought back a rough memory. After a few seconds we all laughed about it and it was all good.
The third meaning was....and then I turned to her mom and she presented a nice bottle of wine to her. She still didn't get it so her mom placed it on the rack for her see. Stef had the biggest smile on her face after seeing what it really was for, which she really liked. Oh...BTW... that was the last time Stefanie ever had venison, as far as I know that is.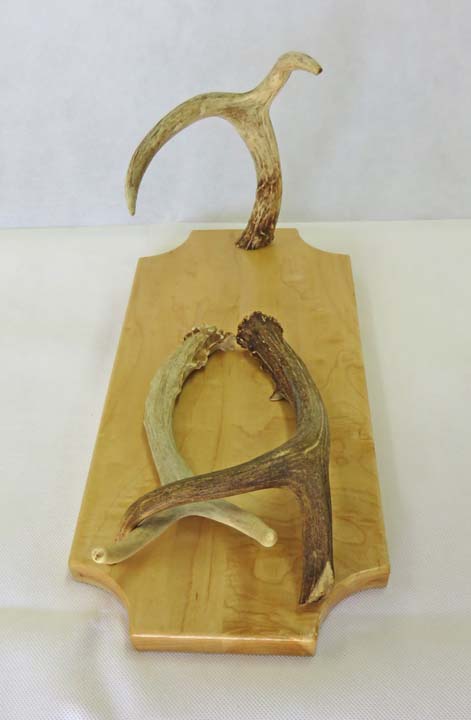 Here you can see all the screws I used to hold the antlers in place.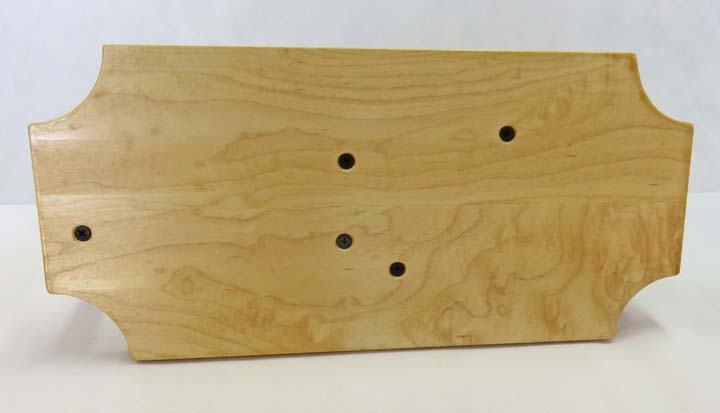 I had fun coming up with all the designs for these wine racks.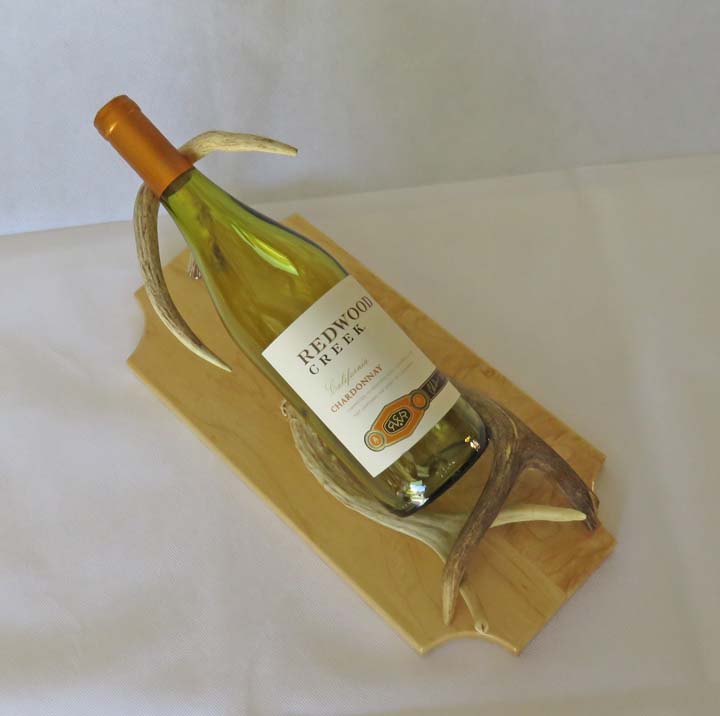 Notice one of the antlers is broken. This happened before I shot it.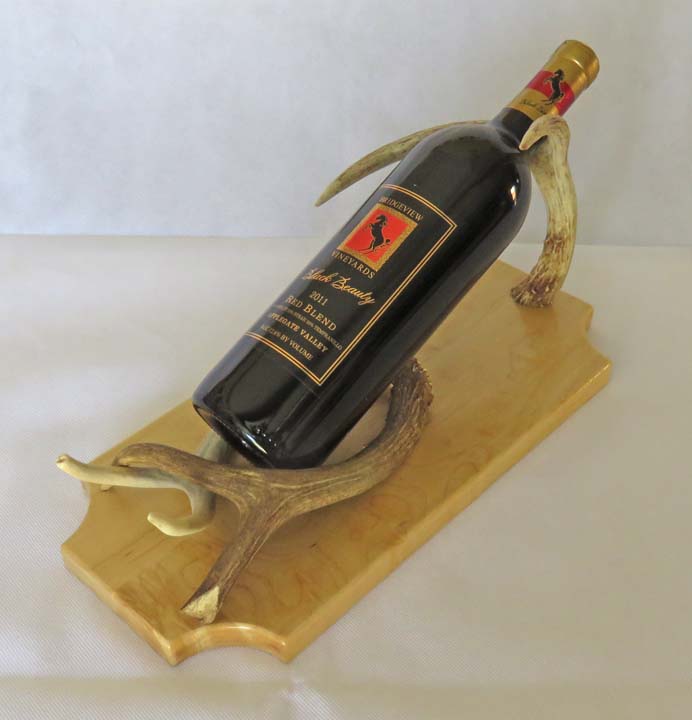 This one went to my son Tony. His was the only one that used a four point antler.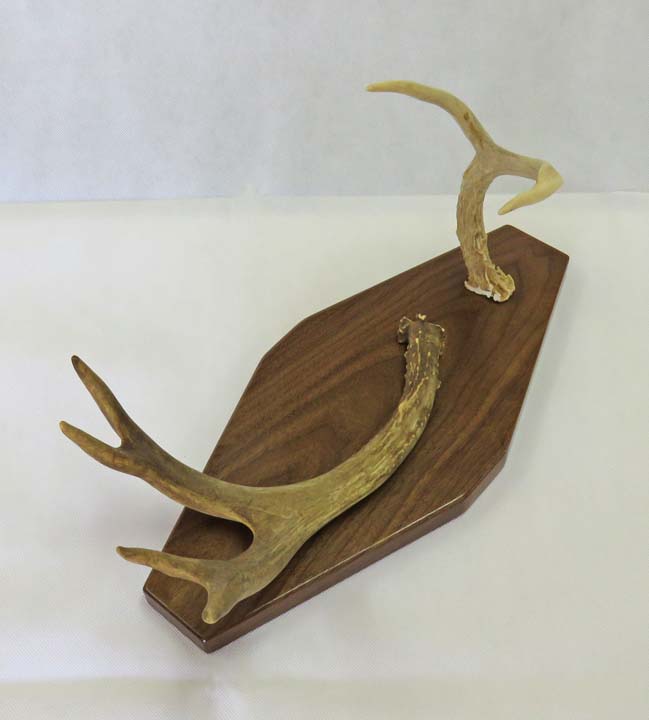 There's something cool about this blue bottle.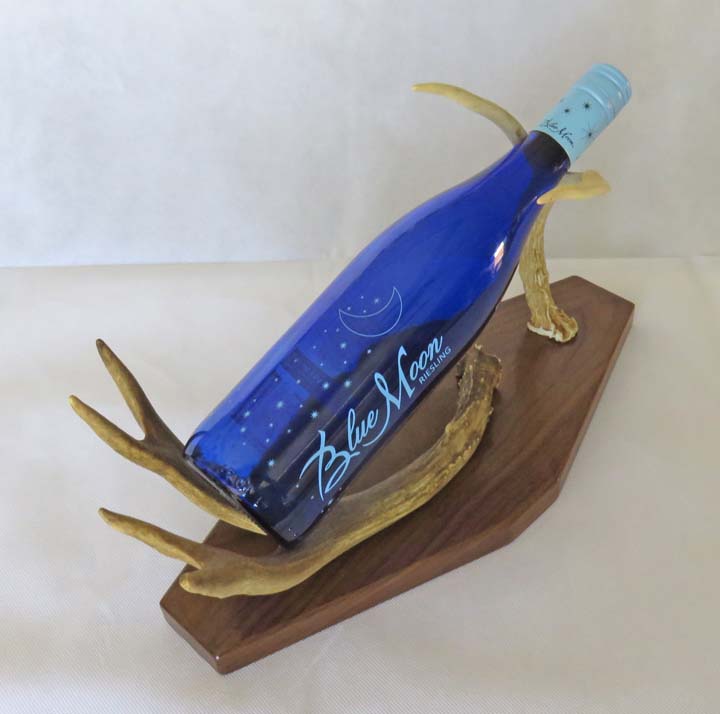 Here you can see that it fits right between those branched antlers making it very stable.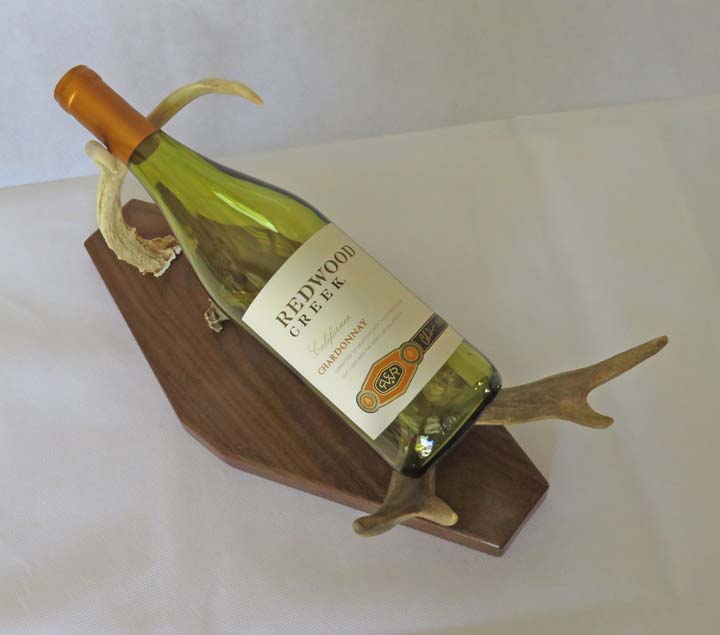 A close up of the wood base that gave me trouble earlier. Looks good now though.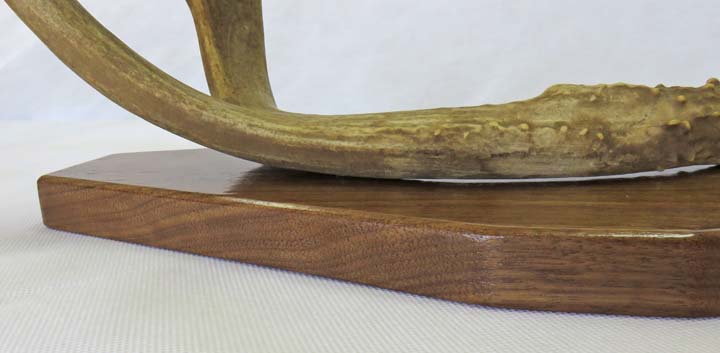 Everyone seemed to like their wine racks and I hope they all get many years of service out of them. This was a fun project to do and maybe I'll do something else with some deer antlers again soon.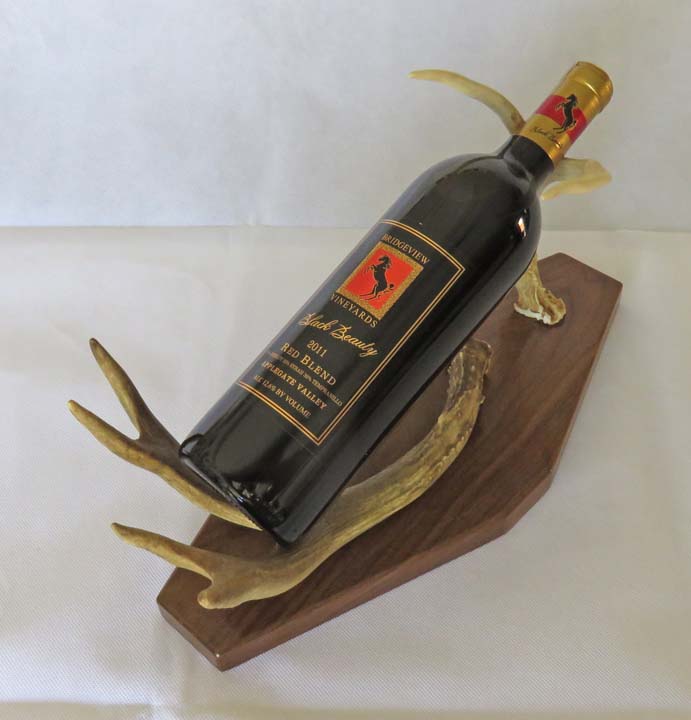 1
2
3