I've been deer hunting since 1980 and have had some wonderful times doing so. Knowing that I'd be climbing hills and walking for miles on end, I got in shape by running four to five miles every other morning, lifting weights four times a week and playing baseball a couple of times a week as well. Needless to say I was in good shape back then.

I've seen some beautiful country throughout the years along with some gorgeous sunrises' on many of those hunts. And I've set foot in some areas few people have every walked or seen before because that's what it takes to get away from most of the hunters and to find the bigger deer.

I started deer hunting mostly around southern California and have seen a few here and there and also missed a big one the following year in 1981. But everything changed when some friends of mine asked me if I wanted to hunt out of state because the amount of deer in and around my area are very slim compared to most other states. Once I experienced my first out-of-state hunting trip, that opened my eyes to what deer hunting can truly be.

The antlers that you see below are from the first deer that I ever shot, which was harvested in Utah back in 1982. One of the guys I hunted with on that trip gave me the plaque that you see to mount my antlers on, which was very cool. And I've had these hanging in my garage ever since.

In the last year or so I've been making a few projects, using antlers from some of the deer that I've been blessed with over my life and decided to make a few more plaques. And to make the new plaques I'll use this old one as a pattern and use them to hang a few more antlers in the garage with.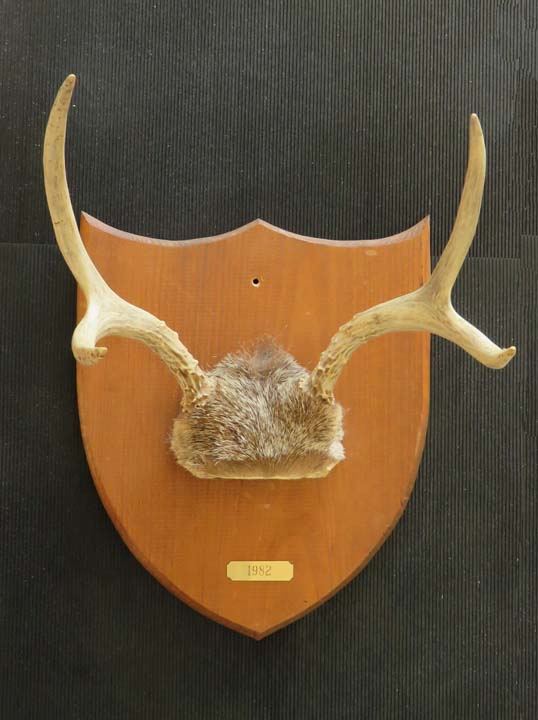 Here are the antlers that I've been working with for the last few months. After using some of these for the other projects, I only have one box now. My plan is to use some of the larger ones for my new plaques.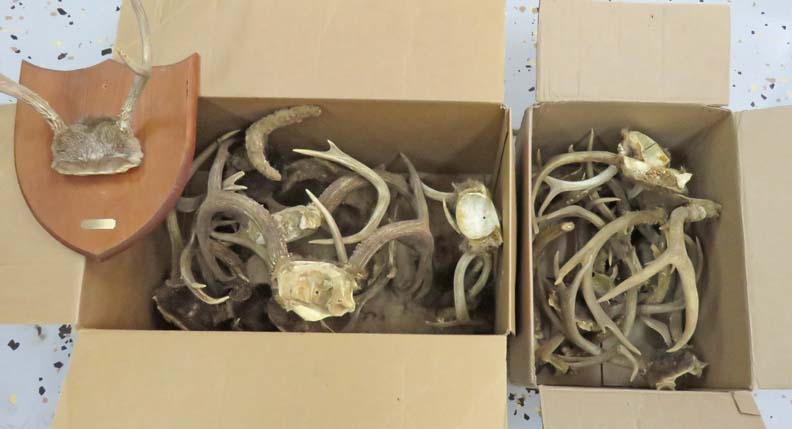 I used my original plaque and made a cardboard template by tracing around it. Now I can transfer this pattern to some wood.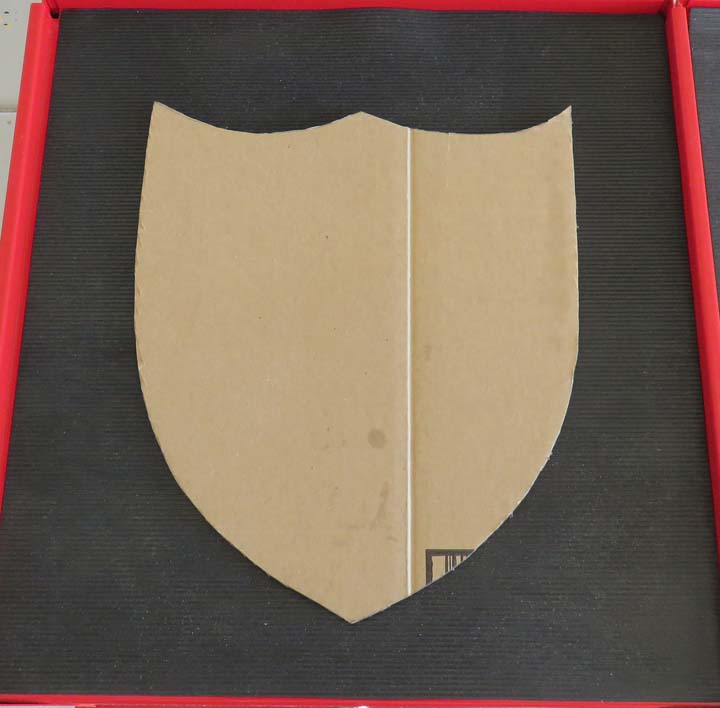 I'm using some 1" X 12" pine for the wood here and as you can see it's just the right width.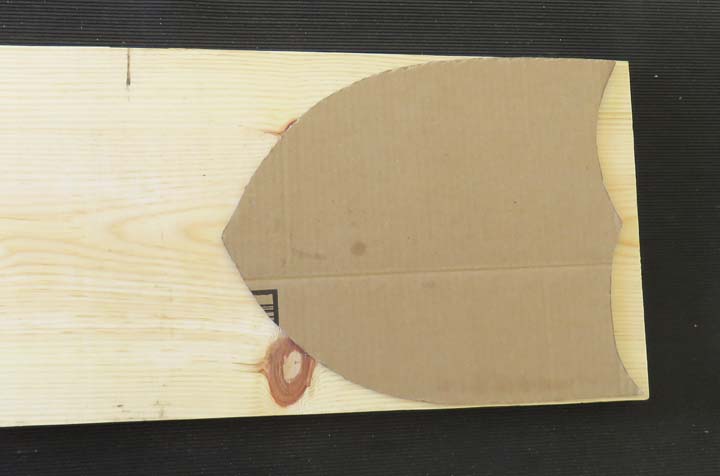 I used my bandsaw to cut them out with, which made short work of them. BTW, I'll be making five plaques.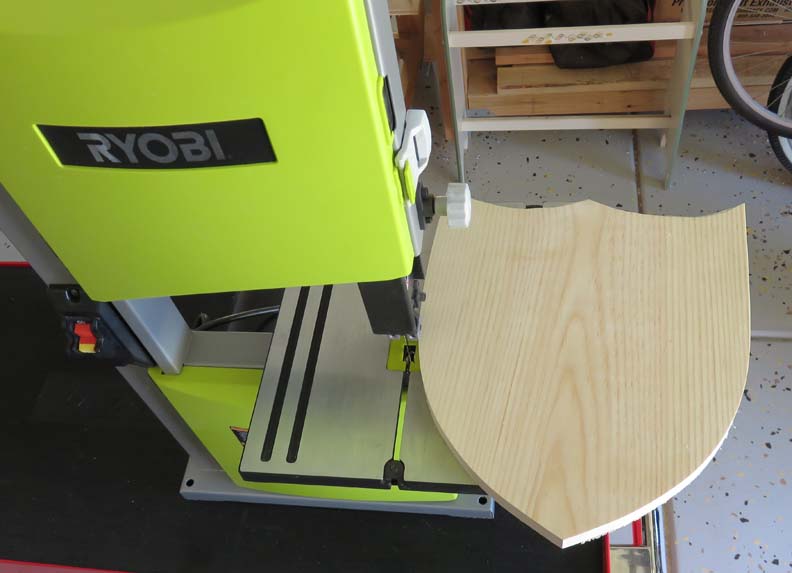 I used my belt sander to sand all of the convex radius' with, and like before it went pretty quick.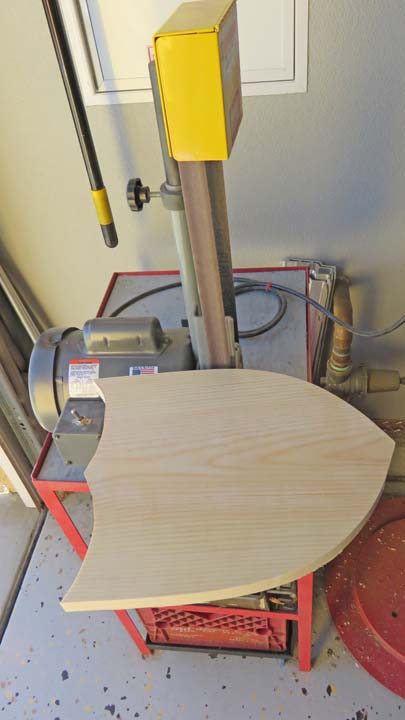 I've used my belt sander for a concave radius before by taking off the top belt guard. However I won't be doing that for this project because I have a new tool for this type of sanding now.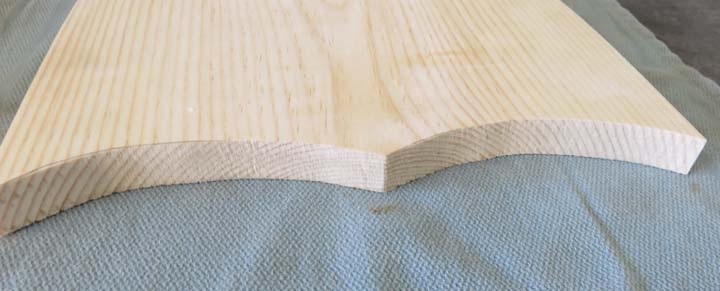 My daughter bought me this oscillating drum sander for Christmas 2016 and it worked great for this project. It has seven different size drums that you can choose from and the size you see below is the largest. If you look close you can see two of the smaller drums at the base of the machine. The remainder of the drums are located in the back out of view.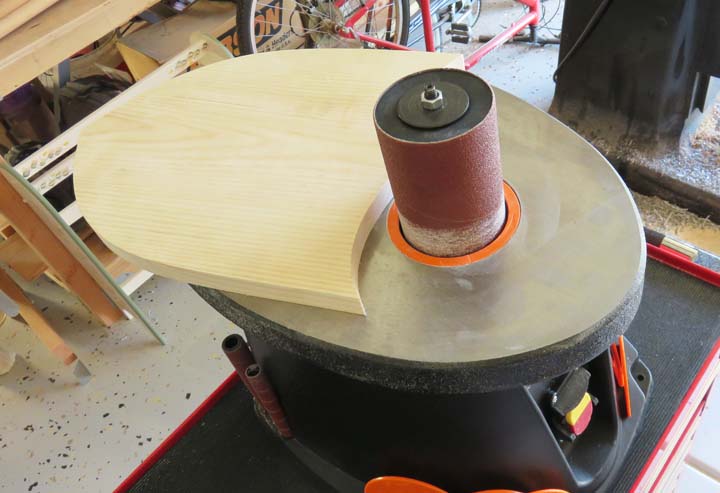 I used my router table with a 3/8" round over bit for the radius on the front of the plaque. This worked great and it was also fast.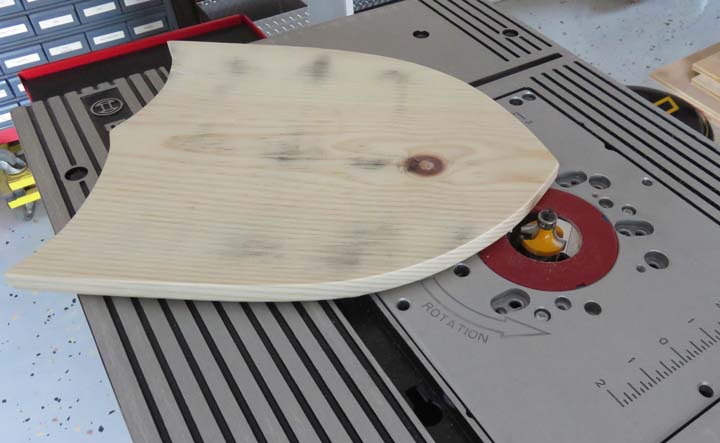 Here is a close up of the plaque to this point. Now it's time to sand everything.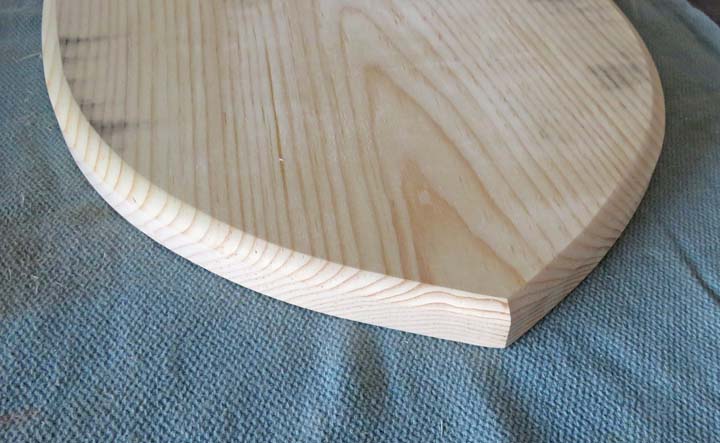 The sanding for this project went great because pine is very soft and is easy to work with.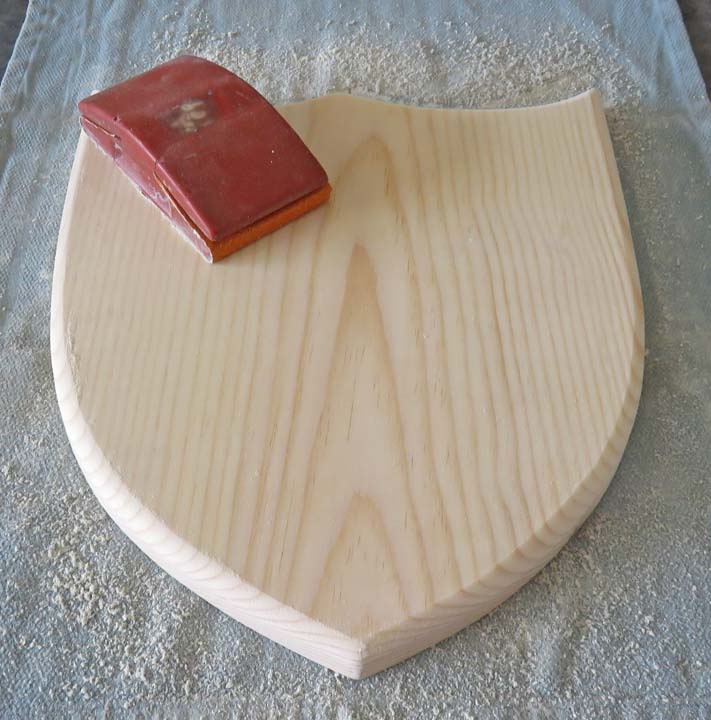 To sand the edges I placed the plaque in my vise along with some soft jaws and used 220 grit sandpaper held with my hands.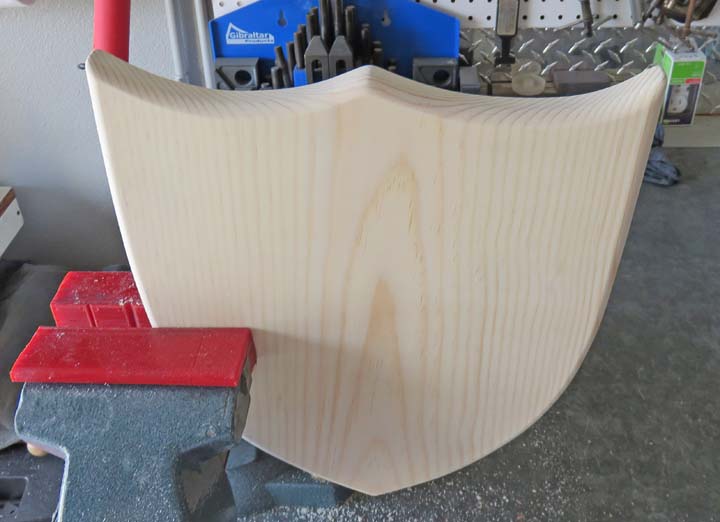 I wanted to match the color of the original plaque and happen to have some stain laying around that was very close so I used it.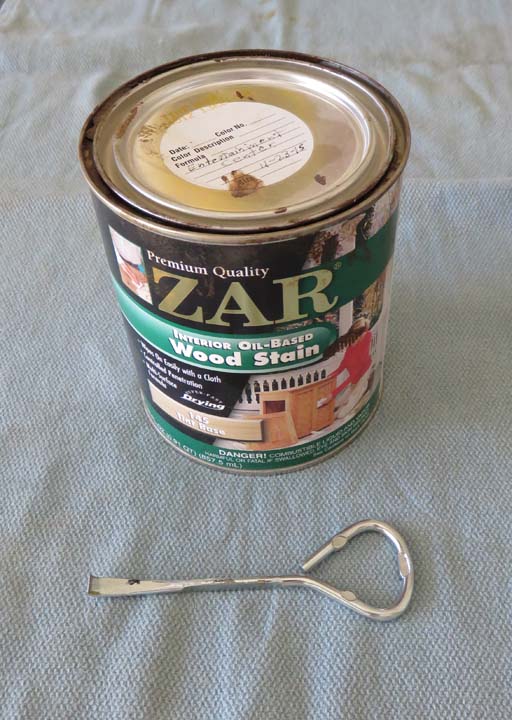 I placed some plywood across two sawhorses for my staining operation and used three finishing nails under each plaque to rest them on. I stained the bottom first and then turned them over and did the top and sides. And then I let them dry for about a week.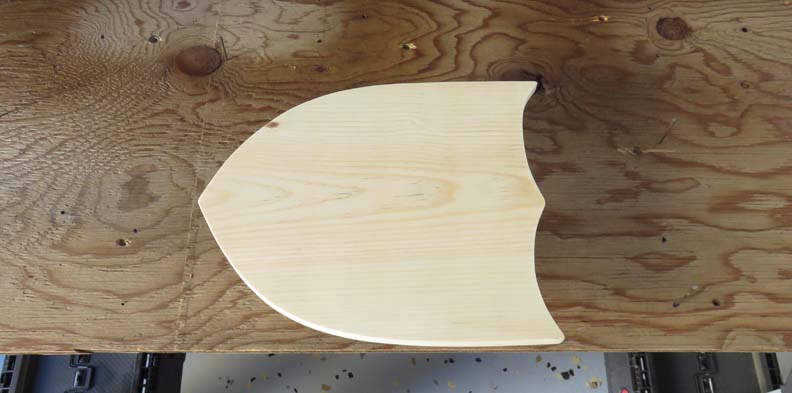 The stain came out very close to the original one and I'm happy with them. Now it's time to mount some antlers and hang some on the garage wall.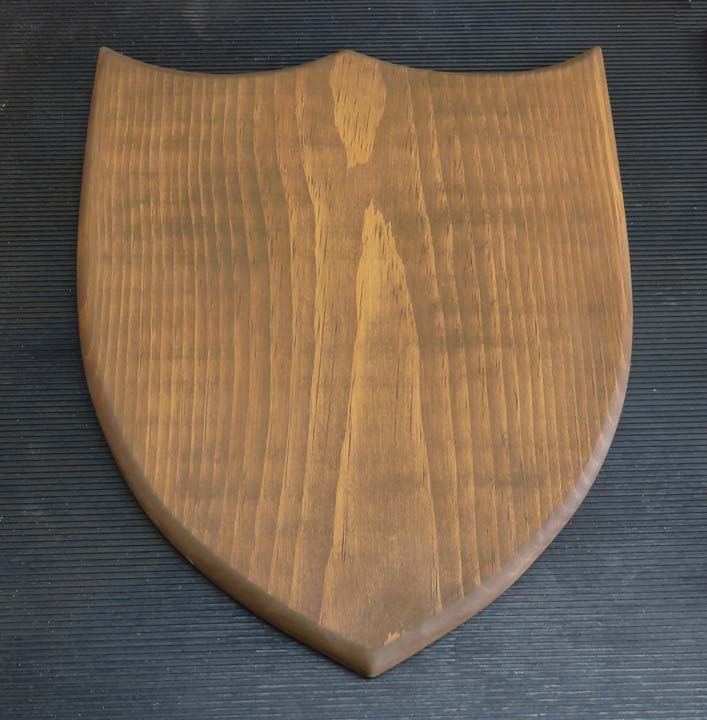 These two are above my side door next the sign my father-in-law made for me.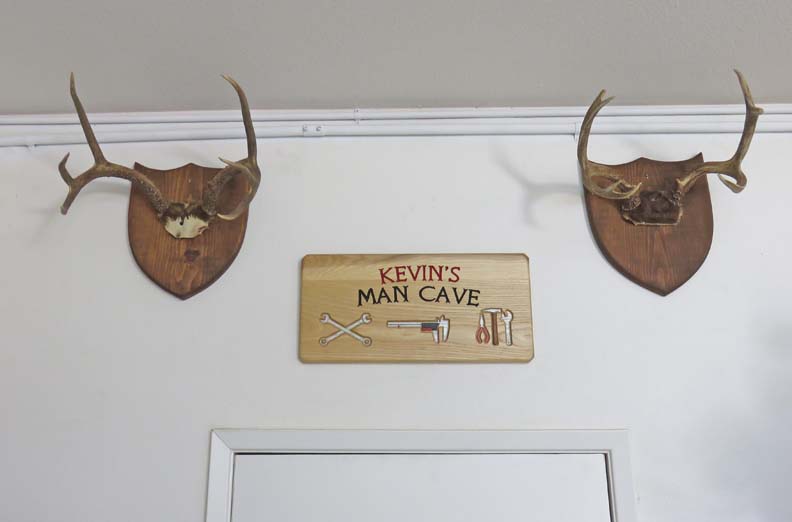 These two are on the same wall but over to the right of the other two. The original is on the right and I came close to matching it for color. I gave one of the plaques to my daughter Tracey, and I have one more in my box of antlers that I might use at another time. This was a quick project and it was fun to do. Hopefully I'll use my extra one for the up and coming deer hunting season. Wish me luck!