USS Gerald Ford 5 04-2015
When the Ford finally hits the water in a few years, it will look less like something from "Waterworld" and more like something from the future. That's where generations of new tech will be used.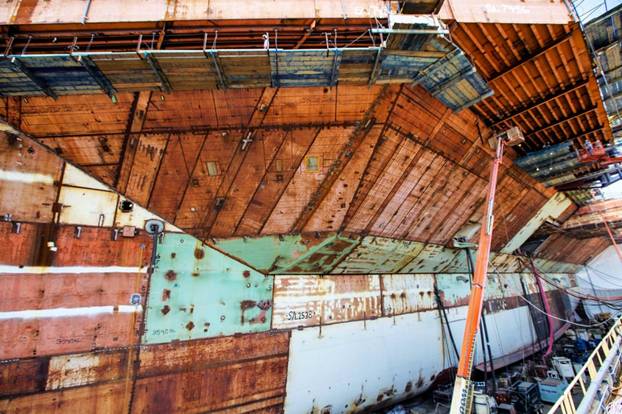 The keel of Gerald Ford was laid down on November 13, 2009. Construction began on August 11, 2005, when Northrop Grumman held a ceremonial steel cut for a 15 ton plate that forms part of a side shell unit of the carrier. She was christened on November 9, 2013.The schedule calls for the ship to join the U.S. Navy's fleet in March 2016 with the first deployment in 2019. Gerald R. Ford will enter the fleet replacing the inactive USS Enterprise, which ended her 51 years of active service in December 2012.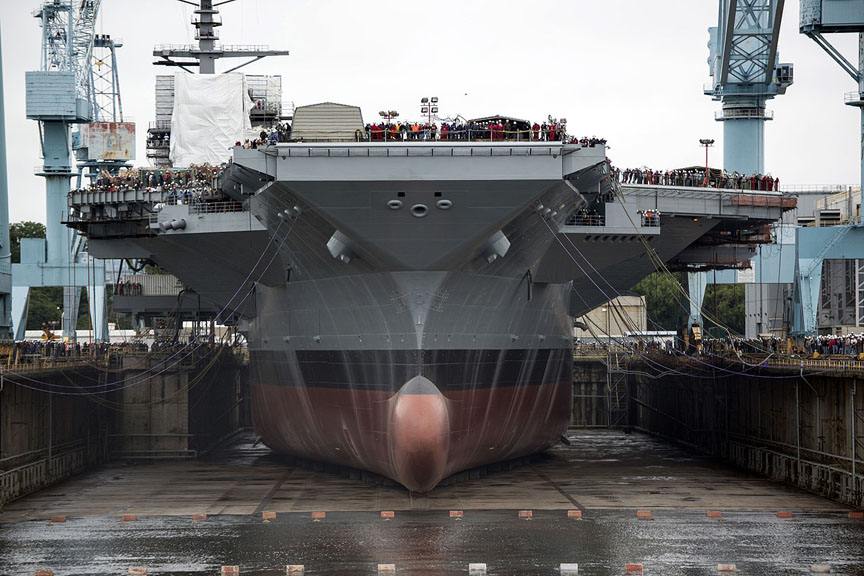 The 555-metric ton island sits in place after being lifted into position on the ship's flight deck during a ceremony at Newport News Shipbuilding in January 2013.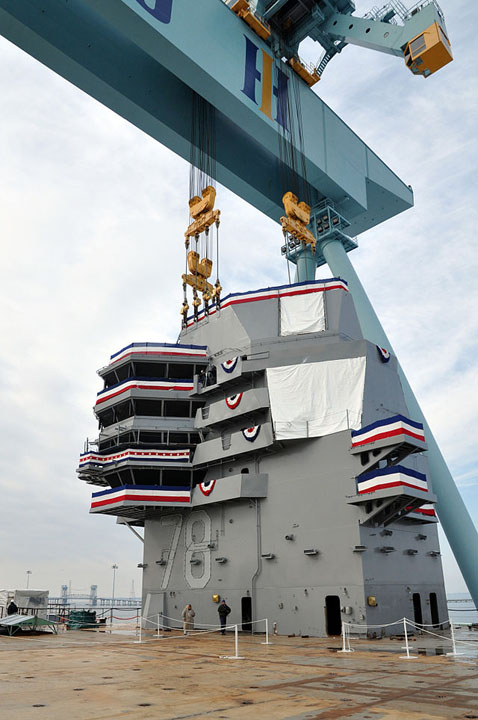 Gerald R Ford is intended to be the first of a class of aircraft carriers that offer significant performance improvements over the previous Nimitz-class aircraft carrier. Gerald R. Ford is equipped with an AN/SPY-3 active electronically scanned array multi-function radar, and an island that is shorter in length and 20 feet taller than that of the Nimitz-class; it is set 140 feet further aft and 3 feet closer to the edge of the ship. Replacing traditional steam catapults, the Electromagnetic Aircraft Launch System (EMALS) will launch all carrier aircraft. This innovation eliminates the traditional requirement to generate and store steam, freeing up considerable below-deck square footage. With this EMALS innovation, Gerald R. Ford can accomplish 25% more aircraft launches per day than the Nimitz-class and requires 25% fewer crew members. The Navy estimates it will save $4 billion in operating costs over a 50-year lifespan.