Here you can see my fancy wiring job along with the wing-nut, which makes removing the wire nice and easy. Also, note the burned area around the hole. I found out that once the wire was hot it also became loose. I tried tightening the wire as much as I could while it was cold but no matter how tight I made it, the wire came loose when heated so this wasn't going to work. On a side note, I enlarged the hole in the base to 1/4" once I found out it was touching the wood just to be on the safe side. But I'll need to fix this loose wire problem.

To address the loose cutting wire problem I decided to make the Nichrome wire spring loaded. The first order of business would is to make the screw hole that holds the wire into a slot. This way when I have it under spring pressure it can move up and down. To make this slot I removed the arm and used a 3/16" end mill to make a slot using my milling machine.

For the spring part, I bent some sheet metal into a 'C' shape to fit over the arm. Once I had this made I then started experimenting with different size springs that I had and placed them between the wooden arm and my new 'C' shaped piece. The one that you see in the picture worked the best.

I placed the C shaped piece over the wooden arm, then started applying pressure to the top of my new device and marked a few spots. The two small red marks represent the light and heavy amounts of spring pressure that I thought would work so I made a third mark that would be used for my starting point.

Here is what it looks like installed. I didn't bend the 'C' shaped piece very well and as you can see I needed to add some washers to the inside as spacers. No big deal because it worked so I was happy.

On the other hand, I did discover something that I didn't expect. When I tried the foam wire cutter again with my new spring arrangement, I could hear an eerie sound coming from the Nichrome wire while it was being heated. Now the spring tension on this cutting wire is about as tight as a guitar string and makes a sound like one when you pluck it. Yes I plucked it a few times because that's what guys do. What can I say...we're easily amused....

Anyways, as the cutting wire gets heated, the wire would loosen like I said before. But as this Nichrome wire looses tension the spring is applying pressure making the wire tight again, which makes it change pitch a few times until it stabilizes. This change in pitch makes a sound like you're tightening and loosening the wire while plucking it at the same time (yes I did that too so that's how I know what it sounded like. What can I say...I was having fun).

Now that it works, it's time to try my hand at cutting out some foam for my new rifle case. Speaking of my new case, let's take a look at what I'll be working on.

The Rifle Case

My new rifle case is made by Pelican, model 1750. This case is 53" long x 6 1/8" thick x 16" inches wide and weighs 25 1/2 pounds empty. Pelican claims this case is unbreakable, watertight, airtight, dustproof, chemical resistant and corrosion proof and offers total protection for your equipment. It's made of Ultra High Impact structural copolymer that makes it strong and durable and it comes with a three piece foam set. This means that your equipment can fit into the high density foam of the case for total protection against impact, vibration or shock, which I'll talk more about later.

This case has a large 1/4" neoprene waterproof O-ring seal and an automatic purge valve for quick equalization after changes in atmospheric pressure to make it easy to open. Pelican also offers a personalized nameplate service if you want it. This case is NATO codified and tested to MIL C-4150J (Military Standard), IP-67 (Ingress Protection) and ATA (Air Transportation Association). One of the best features of the Pelican company is this case is unconditionally guaranteed, FOREVER!!

Features:

Colors: black, Military green, or desert tan
Watertight, crushproof, and dust proof
Easy open Double Throw latches
Open cell core with solid wall design - strong and light weight
O-ring seal
Automatic Pressure Equalization Valve
Fold down handles
Strong polyurethane wheels with stainless steel bearings
Stainless steel hardware and padlock protectors
3-piece foam set
Personalized nameplate service available
Lifetime Guarantee


Specifications:

Dimensions Inside: 50.50" x 13.50" x 5.25"
Dimensions Outside: 53.00" x 16.00" x 6.12"
Lid Depth: 1.75"
Bottom Depth: 3.50"
Total Depth: 5.25"
Interior Cubic Volume: 2.07 cubic feet
Weight with foam: 25.57 lbs.
Weight without foam: 23.59 lbs.
Buoyancy: 187.39 lbs.
Temperature Range: -40 / 210° F


With large fold down handles this case is really easy to carry. The double-throw latches are strong and easy to open: it's the classic "C" clamp design with a secondary movement that works like a pry bar to start the release and offers plenty of leverage to open with a light pull.


On the bottom side are two strong polyurethane wheels with stainless steel bearings. This should help me get from one spot to another if I don't want to carry it.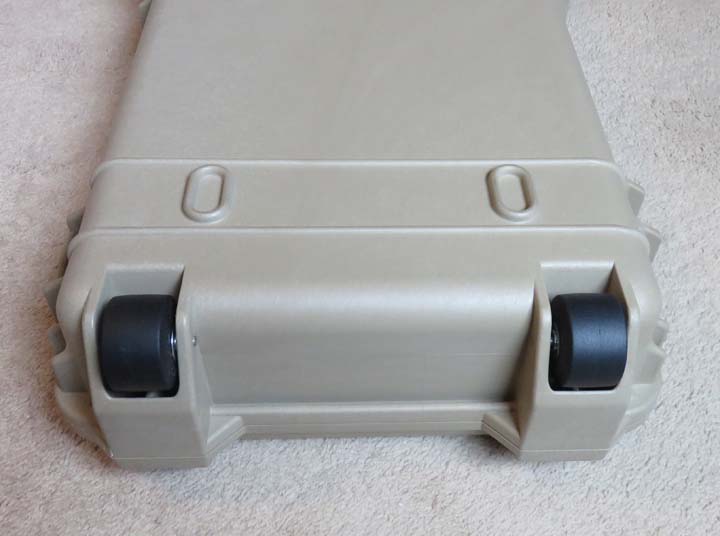 To aid in pulling the case is a fold down handle on the opposite end of the wheels. This is good news because the rifle/case combo will weigh close to 40 pounds.

These cases have a stainless steel hasp and padlock protectors to provide added strength, extra security against cutting and theft at both ends, which are a Pelican exclusive. And with four easy to use latches it seals up quick and easy.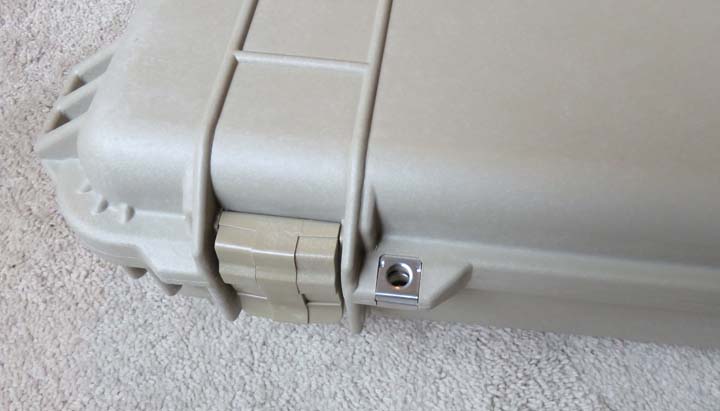 This should give you an idea of how large the center fold down handle is. And all of the edges have a nice radius so it's easy to carry. Pelican cases are made with a proprietary combination of copolymers, using an open cell core and solid wall construction, which is stronger and lighter than a solid core wall. Stainless steel pins are used in hinges and handles.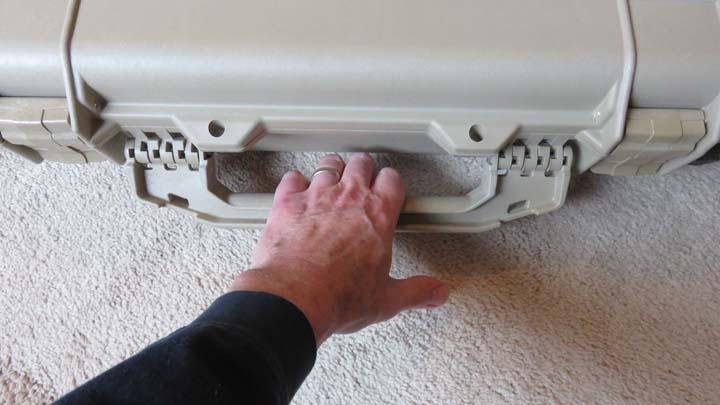 1
2
3