I made this cribbage board as a fathers day present in 2014 for my father-in-law, Jerry. The idea came to me after seeing my wife and Jerry playing the game every time they would visit each other. I also heard them both complain about the board they used when ever they would play at the house.

Jerry taught her daughter how to play a few years ago and she has gotten very good at it over the years. I always know when he's loosing by the tone in his voice from the next room because he's taught his own assassin how to play the game.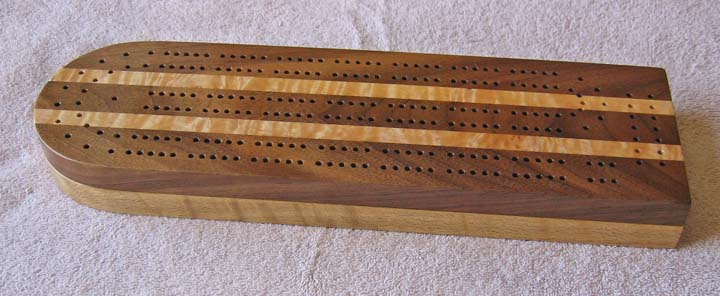 The species used here are black walnut and curly maple for the top and maple for the bottom. I drew the hole pattern in my CAD system, then took all those X and Y coordinates and transferred them into Microsoft Excel. Once they were in Excel, I printed them out (three full pages) and used that for the hole location on my garage milling machine. In case you were wondering how many holes there are, the total comes to 262.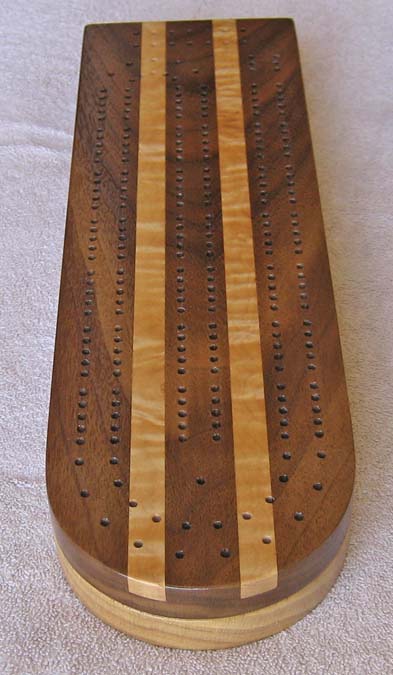 With the use of some barrel hinges, the pins and deck of cards are stored inside. I've never used hinges like this before but they work pretty good for a small project like this.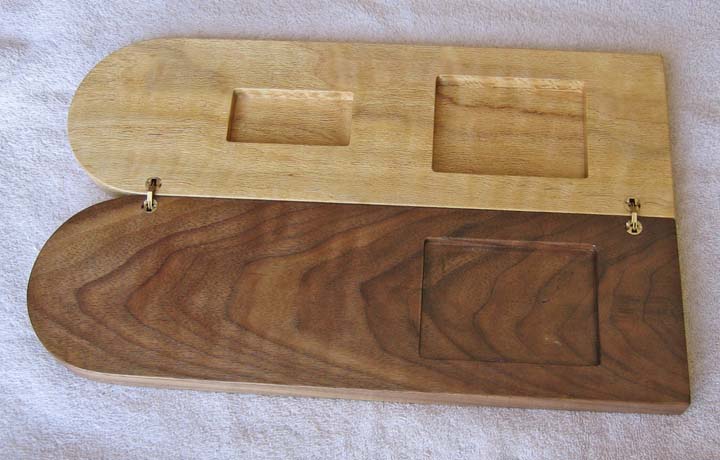 If you look close, you can see a small screw on each side of barrel hinge. By turning this screw it expands a small piece that helps keep the hinge in place. On the opposite side of the screw is a 'half of a countersink' that can be used with a flathead screw if you wanted to hold them in that way.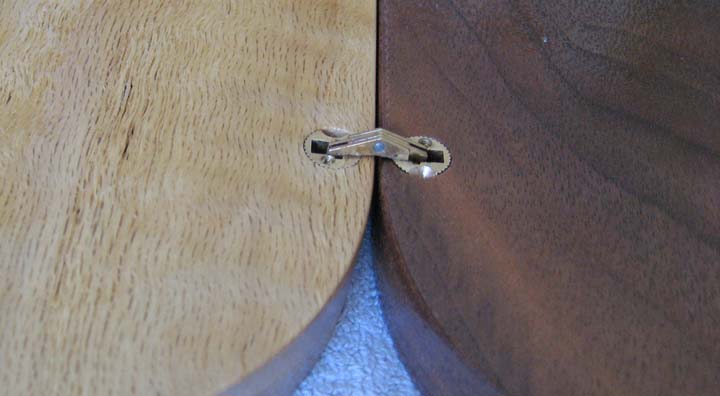 I used a spray on urethane (rattle can) and applied four coats. After allowing a week for it to dry, I reassembled the two pieces.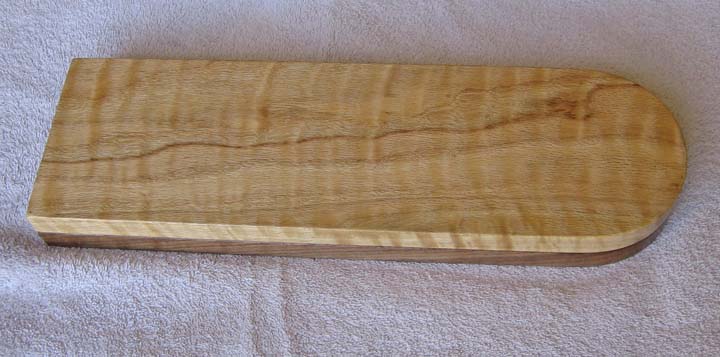 I also made the pins which are 2' long and one set is made from brass and the other stainless steel.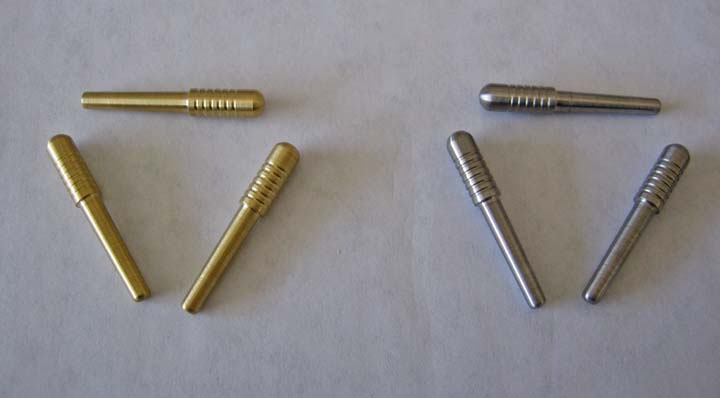 The clear-coat was a little uneven in all the holes so I hand reamed all of them so the pins would locate evenly.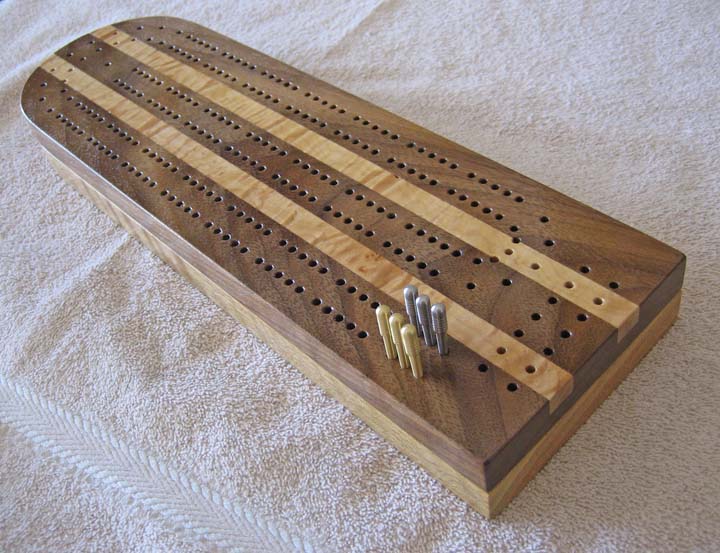 Here you can see the pins and deck of cards stored inside the board. I used an end mill to make the pockets with the cards being half the depth on each piece.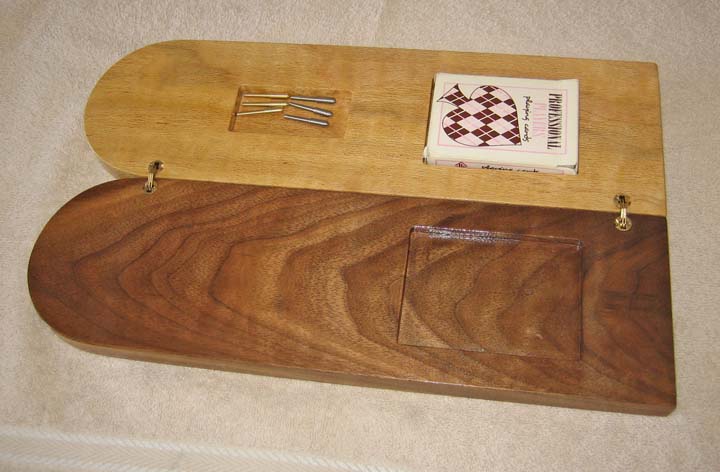 My father-in-law really liked it and uses it all the time.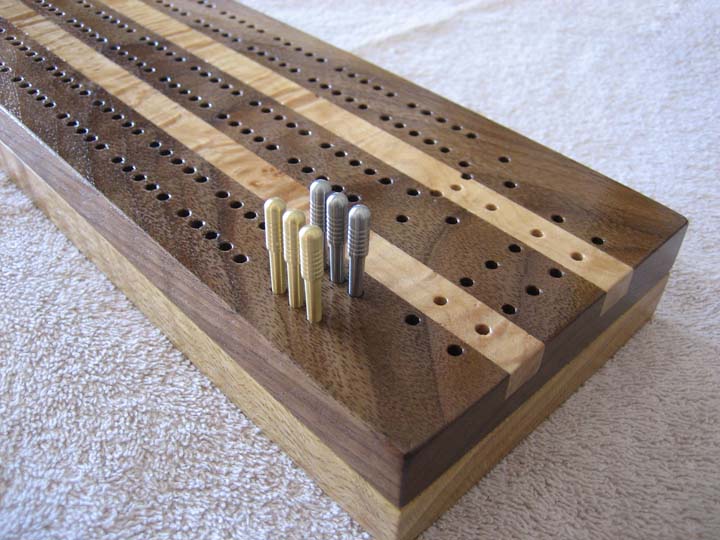 In case you were wondering why I didn't use a new deck here is because my wife insisted this old deck still has some luck in it. Cribbage anyone?